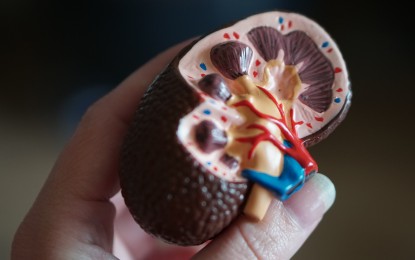 MANILA – At least 7 million Filipinos are suffering from chronic kidney disease (CKD) as of 2021, with one Filipino every hour getting the disease.
In a media forum on Friday, Philippine Society of Nephrology fellow Dr. Vimar Luz said the figure is based on the extrapolation report of the National Kidney Institute from data collected since 2016.
"Sa Asia, we comprise about 25 percent ng contribution dun sa 840 million as of 2021 na may sakit sa bato. Base sa pag-estima, magkakaroon pa ito ng (In Asia, we comprise about 25 percent contribution to the 840 million as of 2021 of those with CKD. Based on estimates, this will have an) increase of about 3 percent in the span of 3 years," he said.
CKD is a condition where the kidneys are damaged and are unable to filter blood the way they should.
Data from the Institute for Health Metrics and Evaluation showed that CKD became the fourth most common cause of death in the Philippines in 2019 after ischemic heart disease, stroke, and lower respiratory infection. Tuberculosis was fifth.
"Only as few as 10 percent are diagnosed. Ibig sabihin, ang data natin 7 million ay maaring underestimated po 'yun (This means, our data of 7 million could be underestimated)," Luz said.
The early stage of CKD has no signs and symptoms, but it can be detected through serum creatinine exam.
This exam provides an estimated glomerular filtration rate which gauges the kidneys' function depending on the person's age.
Meantime, later stage of CKD could show symptoms like fatigue, lack of appetite, edema, nausea, vomiting, small amount of urine, lack of sleep, difficulty breathing, blood or protein in urine, rashes and sexual function problem.
Luz said diabetes and hypertension are the top two causes of CKD in the country. The other causes include nephrolithiasis, polycystic kidney disease, chronic pyelonephritis, and glomerulonephritis.
Individuals who have kidney disorders in the family, high blood sugar, high blood pressure, heart disease, are smoking, are overweight, or over 60 years old could be at risk of having CKD.
"Ang CKD ay hindi lubusang gumagaling, ngunit hindi lahat ng may CKD ay nauuwi sa dialysis. Maaaring mapabagal ang paglala ng CKD (CKD is not cured completely, but not all individuals with CKD end up needing dialysis. The worsening of CKD can be delayed)," he said.
To keep oneself from getting CKD, he advised everyone to keep their blood pressure and blood sugar under control, maintain a healthy diet, exercise regularly, drink adequate water, avoid smoking, avoid abuse of pain relievers and supplements and have regular checkups. (PNA)