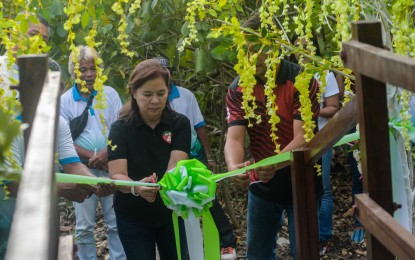 MANILA - The Commission on Elections (Comelec) Second Division on Friday canceled the registration of An Waray party-list (PL) for violation of rules and regulations related to the 2013 polls.
An Waray allowed its second nominee, lawyer Victoria Isabel Noel, to sit as representative in the 16th Congress, "knowing fully well that the Comelec has not issued a Certificate of Proclamation entitling her to do so," the poll body said in a statement.
The Second Division noted that while An Waray was initially entitled to two seats in the House of Representatives in 2013, it was reduced to one seat under National Board of Canvassers (NBC) after a computation.
"The recomputation of seats was made following the Supreme Court's order, in Abang Lingkod Party-list vs. COMELEC, to proclaim Abang Lingkod PL as one of the winning PL groups in the 2013 NLE with the number of seats it may be entitled to, and in view of the then-pendency of the case of Senior Citizens PL before the Supreme Court," read a resolution issued on Aug. 20, 2014.
The Comelec likewise pointed out that in the absence of a Certificate of Proclamation for its second nominee, An Waray party-list is only entitled to one, thus Noel's "assumption to office as Representative of An Waray had no legal basis."
Under Section 6(5) of Republic Act No. 7941 or the Party-list System Act, the move is considered a violation of laws relating to elections imputable to the party.
Comelec spokesperson Rex Laudiangco said that the decision is not yet final and executory, and the party-list can file a motion for reconsideration (MR).
"The resolution has yet to become final and executory. But should it be so, please recall that the primary qualification to be able to participate in the Party List System of Representation Elections is its registration and such qualification must be continually possessed," Laudiangco told reporters in a Viber message.
An Waray has five days to file the MR before the Comelec en banc. Failure to do so within the reglementary period will make the decision final and executory.
Laudiangco explained that although the violation was committed 10 years ago, the Comelec has the power to visit compliances under the Party-list Act.
Further, he said that while a cancellation of the party's registration may be a ground for the removal of seat in the House, it is the House of Representatives that has the "ultimate jurisdiction" over the matter.
"We must always take due notice that when it comes to qualifications, retention a of seat at the House of Representatives of a sitting Member will ultimately will be within the jurisdiction of the House of Representatives Electoral Tribunal," he said. (PNA)