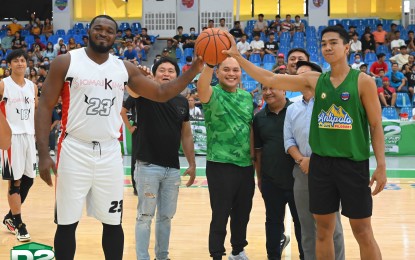 TIAONG, Quezon — Encho Serrano left a lasting impression in his Pilipinas Super League (PSL) debut as he led Siomai King to a 119-76 romp over Antipolo at the start of the D2 Super Cup on Friday night at Tiaong Convention Center here.
Serrano took flight in his first taste of action in the fourth professional league he has played in, tallying 19 points in just 15 and a half minutes of play even as the star-studded squad made quick work of Antipolo's young core.
Serrano also chipped in three rebounds and three assists, while Leo Najorda, Emman Ojuola, and Kurt Lojera each added 13 points.
Ojoula also grabbed 12 rebounds.
Louie Datario tallied 19 points with three boards for Antipolo.
Meanwhile, Batang Tiaong successfully defended its homecourt despite an early giant-slaying attempt from Gumaca with a 70-58 win in the nightcap.
Represented by the National Collegiate Athletic Association's Mapua Cardinals, Batang Tiaong found itself on the verge of getting stunned as it was up by just two, 30-28, at halftime.
The home squad, however, erupted for 29 points in the third quarter, almost matching its entire first-half output, to open a 59-42 lead entering the fourth.
Kobe Dalisay led Batang Tiaong-Mapua with 17 points on four triples while Clint Escamis added 11 points off the bench.
Johnlord Balo led Gumaca with 17 points, four rebounds, and one assist.
Getting Encho
Serrano was the main subject of a free-agency battle between Phoenix and Pampanga.
The 5-foot-11 high-flying guard was listed in the Fuel Masters' lineup for the ongoing Philippine Basketball Association on Tour preseason series in hopes that they could still re-sign him following the end of his one-year rookie deal.
However, Serrano decided to rejoin his former Pampanga mentor, Governor Delta Pineda.
On why he found himself with Siomai King when Pampanga is currently in the Maharlika Pilipinas Basketball League (MPBL), PSL officials said Serrano has yet to formally sign with the Pineda-coached squad, still defining him as a free agent following the expiration of his Phoenix contract and making him eligible to sign with Siomai King.
PSL sought permission from Pineda before clearing Serrano for PSL action.
Following the end of the PSL D2 Super Cup, the Pampanga Giant Lanterns, who won the PSL Dumper Cup title before moving back to the MPBL, are expected to formalize their acquisition of Serrano.
Dream come true

The PSL D2 Super Cup drew 14 teams in total.
Candelaria, Gilas Sariaya, and San Antonio Bobcats are the other teams out to make Quezon Province proud.
Joining the tough cast are the Manila City Stars, Zamboanga Valientes, AMA University, RV Sports Wildcats, MFT Fruitmasters, Berbets Engineering Services, and overseas team Kuala Lumpur Aseel.
Quezon Second District Rep. Jayjay Suarez is glad with the turnout.
"Nakakatuwa at nakakataba po ng puso na maraming teams na sumali. This just goes to show na iyong pangarap natin na maisama ang distrito at
mga bayan namin sa sports calendar, na-achieve natin (It's exciting and heartwarming that so many teams have joined. This just goes to show that our dream of including the district and our towns in the sports calendar, we have achieved)," Suarez said during the opening ceremonies earlier in the day.
Tiaong Mayor RJ Mea bared that a second edition of the tournament is already in the works.
"Ito pong liga natin ngayon ay hindi magiging first time lang. Mauulit po ito. At hindi lang po sports ang plano natin kundi pati ang promotion ng tourist spots at makakuha ng investors para lalong makilala ang bayan ng (This league of ours today will not be just the first time. This will happen again. And our plan is not only sports but also the promotion of tourist spots and get investors to better know the town of) Tiaong," Mea said. (PNA)

OPENING DAY. Quezon 2nd District Rep. Jayjay Suarez leads the ceremonial toss with Siomai King's Landry Sanjo and Antipolo's Jemuel Lacsamana to signal the start of the PSL D2 Super Cup on Friday at the Tiaong Convention Center. Siomai King won, 119-76. (Photo courtesy of PSL)