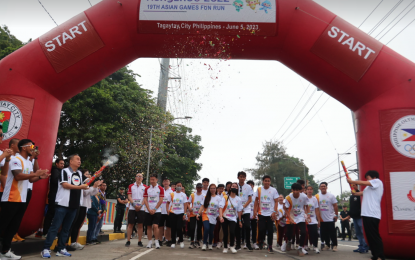 MANILA – Tagaytay City's invitingly cool weather provided the perfect condition for the Philippine Olympic Committee's (POC) successful hosting of the Hangzhou Asian Games Fun Run on Sunday.
More than 500 runners participated in the ceremonial campaign aimed to promote the quadrennial event in Hangzhou, China from Sept. 23 to Oct. 8 this year.
The field included some of the country's medalists in last month's Cambodia Southeast Asian Games, representatives from the Hangzhou Asian Games Organizing Committee (HAGOC) and Olympic Council of Asia (OCA) and students from the host city who gamely answered the gun at exactly 6 a.m. on Sunday.
"We are proud that the POC, Tagaytay City and the country have become part of this symbolic fun run that not only helps promote the Asian Games but also reiterates the Philippines' very important and historic role why these very games were organized more than a century ago," said POC president Abraham "Bambol" Tolentino, who is also the mayor of Tagaytay City.
The Philippines is acknowledged as the birthplace of the Asian Games when the first Far Eastern Olympic Games were staged in January and February 1913 in the same Malate area where the historic Rizal Memorial Sports Complex stands.
"Everything's perfect, Tagaytay City is perfect for this fun run," Tolentino said moments before he was joined by HAGOC HR Director Chen Qiufang flagged off the runners in waves for the 6K, 3K and 1K categories.
Coupled with the fun run was Tagaytay City's hosting of the Hangzhou Asian Games Children's Art Competition where select masterpieces depicting the games were picked by POC, HAGOC and OCA officials from dozens of entries sent by Tagaytay City school children.
OCA Projects and Operations Manager Wissam Trkmani of Lebanon and Media and Broadcast Director Jeans Jhou Jiann of China also graced the ceremony, along with Philippine-based Chinese representing the HAGOC.
Among those who joined the fun run were Cambodia SEA Games medalists Jason Balabal (wrestling), Sam Morrison (taekwondo), Jasmine Alkhaldi (swimming), Agatha Wong (wushu), Precious Cabuya and Mark Julius Rodelas (obstacle sports), as well as Tokyo Olympics bronze medalist Eumir Felix Marcial (boxing), Nikko Huelgas (triathlon) and Cheska Altomonte (softball).
POC deputy secretaries-general Bones Floro and Karen Tanchanco-Caballero, who is also deputy chef de mission to Hangzou, also participated in the event.
The Hangzhou Asian Games will be held from Sept. 23 to Oct. 8 this year. (PNA)