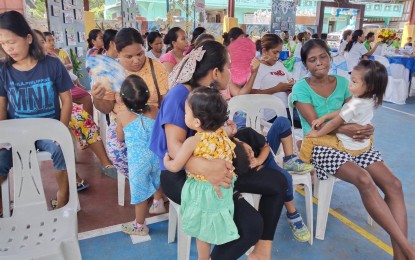 VILLAREAL, Samar – At least four remote villages in this town will benefit from a complementary feeding program intended for malnourished children through an intervention introduced by the Department of Science and Technology (DOST).
The DOST turned over on Tuesday PHP974,360 in assistance to Villareal town Mayor Carlo Latorre for the implementation of the six-month project that will start on July 1.
A counterpart fund of PHP150,000 will be provided by the recipient local government and PHP120,000 from the beneficiary group.
During the turnover ceremony, DOST Eastern Visayas regional director Ernesto Granada said the start-up assistance to remote communities seeks to address the stunting and wasting incidence to three years old children.
The intervention under the Community Empowerment through Science and Technology (CEST) project will benefit children in the villages of Banquil, San Andres, Pacao, and Guintarcan all in Villareal town. These communities belong to the top five areas with a high incidence of malnutrition.
Municipal nutrition action officer Ady Martin Nacar said malnutrition remains a serious concern in their town with 16.72 percent of children stunted and 8.81 percent of children underweight as found in this year's monitoring.
"In recognition of this alarming state of malnutrition, the DOST-FNRI (Food and Nutrition Research Institute) formulated a nutritious food blend for six months to three years old children. It is a complementary food made from a blend of rice and mongo," Granada said.
He said the complementary food is produced in the nearby island town of Daram. The food is cooked through boiling.
"The goal is to increase the weight of the children subjected to the complementary feeding by at least 20 percent from the base weight prior to the intervention. We will regularly monitor the weight of children to check if there are improvements in their health status," he added.
The food blend, DOST-FNRI said, meets the 15 percent of recommended energy intake and 27 percent of recommended protein intake for children less than three years old.
Aside from complementary feeding, the DOST also provided base radio sets and a public address system to boost their disaster response and trained some residents on the hazard hunter application.
Villareal, a 4th class town in Samar province and home to 27,394 people, is situated 60 kilometers north of Tacloban City, the regional capital. (PNA)