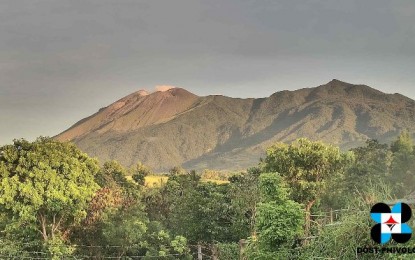 MANILA – The Civil Aviation Authority of the Philippines (CAAP) on Tuesday included Kanlaon Volcano as among the volcanoes that airmen should avoid flying in close proximity.
In a public briefing on Tuesday, CAAP spokesperson Eric Apolonio said Notice to Airmen (NOTAM) B1957/23 had been issued, advising flight operators to avoid flying in close proximity to Kanlaon Volcano's summit due to the possibility of sudden and hazardous steam-driven or phreatic eruptions.
Such eruptions pose a significant hazard to aircraft from the surface up to 10,000 ft, it said.
Kanlaon Volcano has been under Alert Level 1 (abnormal) since March 11, 2020.
Moderate plume emission 300 meters high and five volcanic earthquakes have been recorded for the past 24 hours, according to the Philippine Institute of Volcanology and Seismology on Tuesday.
CAAP, meanwhile, on Monday said NOTAM B1959/23 and B1958/23 have been issued to advise pilots to avoid flying near the summits of Mayon and Taal volcano.
Phivolcs on Monday raised the Mayon Volcano's alert level from Level 1 (abnormal) to Level 2 (increased unrest) due to increased rockfall.
Taal Volcano, on the other hand, has been under Alert Level 1 since July 11, 2022. However, an increase in its degassing activity has been observed over the weekend.
Sudden eruption of these volcanoes may pose threat to aircraft up to 10,000 ft, the CAAP said.
CAAP operates seven airports in the Bicol Region -- Bulan Airport, Sorsogon Airport, Daet Airport, Masbate Airport, Naga Airport, Virac Airport and Bicol International Airport.
Apolonio said flight cancellations due to volcano eruptions are unlikely, based on past experiences. Instead, personnel at the Air Traffic Control Tower could guide the pilots on the flight paths, he said. (PNA)