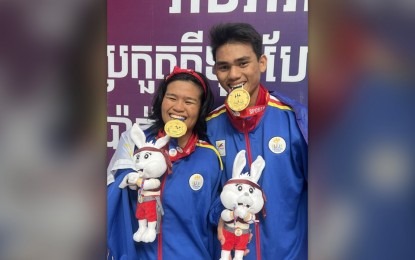 PHNOM PENH, Cambodia – The Philippines pocketed two more golds after Ariel Joseph Alegarbes and Angel Mae Otom won their respective events in the swimming competition of the 12th ASEAN Para Games at the Morodok Aquatics Center here on Tuesday.
Alegarbes set a new Games record of 2:18.19 in the men's 200m Individual Medley S14, shattering the old mark of 2:27.23 set by Malaysian Ethan Yin Jun Khoo in 2022.
Muhamad Imaan Aiman Muhamad Redzuan bagged the silver in 2:22.12 while Khoo clocked 2:26.22 to take the bronze medal.
Alegarbes, a gold medalist in the 50m butterfly on Monday, had earlier won the silver medal in the 100m butterfly with a time of 1:00.73,
Redzuan got the gold medal in 1:00.35 while Bryan Lau Sze Kai grabbed the bronze medal in 1:01.35.
Otom joined the list of double-gold winners when she topped the women's 200m Individual Medley S5 in 4:43.60.
Vietnam's Thi Sari Nguyen (5:16.68) and Thi My Thanh Danh (6:17. 46) finished second and third, respectively.
Otom, who ruled the 50m backstroke on Sunday, won three gold medals last year. (PNA)