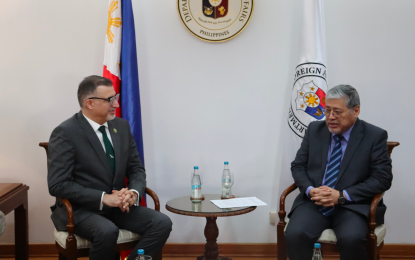 MANILA – The Bahraini government is hoping to establish an embassy in the Philippines by the end of 2023, the Department of Foreign Affairs (DFA) disclosed Tuesday.
The DFA said the project is targeted to materialize within the year to coincide with the 45th anniversary of diplomatic relations between the Philippines and Bahrain.
During a visit to Manila from May 31 to June 3, a Bahrain delegation met with DFA officials to discuss the requirements, procedures and other relevant matters on setting-up a diplomatic mission in the country.
Currently, the Embassy of the Kingdom of Bahrain in Thailand has concurrent jurisdiction over the Philippines.
The delegation, led by Bahrain Ministry of Foreign Affairs Undersecretary for Consular and Administrative Affairs Mohamed Ali Bahzad, also met with DFA Secretary Enrique Manalo as well as officials from the Foreign Service Institute (FSI) to discuss possible collaboration on training programs for both Filipino and Bahraini diplomats.
The Bahraini side sought to advance partnerships and people-to-people exchanges between the FSI and Bahrain's Mohammed bin Mubarak Al Khalifa Academy for Diplomatic Studies.
Diplomatic relations between Bahrain and the Philippines were formally established in 1978, with the two countries doubling efforts to elevate ties in terms of trade and investment, economic, and employment.
At the height of the pandemic, there were over 50,000 overseas Filipinos living and working in Bahrain. (PNA)