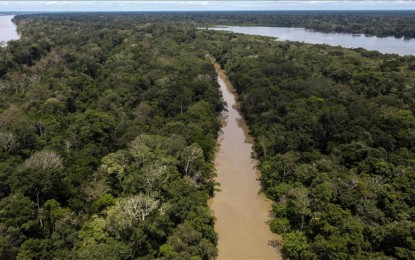 BOGOTA, Colombia – Brazilian President Luiz Inacio Lula da Silva announced a new plan on Tuesday to end deforestation in the Amazon by 2030.
"Brazil is largely responsible for the planet's climate balance because of the Amazon rainforest," said Lula during an event for World Environment Day at the Planalto Presidential Palace."Preventing deforestation of the Amazon will help reduce global warming."
Together with his Environmental Minister, Marina Silva, and other members of his Cabinet, he presented a plan that he had already implemented during his first term that began in 2004.
Since it came into effect and until 2012, deforestation fell by 83%. Afterwards, it increased by 75% under President Jair Bolsonaro, who suspended the plan and replaced it with military operations to combat fires and illegal logging.
Lula's plan proposes the creation of three million hectares of new nature reserves.
The government also wants to seize 50% of illegally deforested land and strengthen monitoring with the hiring of thousands of analysts.
The plan calls for greater use of satellite imagery and data to track criminal activity, the regularization of land titles, the creation of incentives for sustainable agriculture and the use of a rural registry to monitor the proper management of forests.
"Brazil will once again become a global reference in sustainability, tackling climate change and achieving targets for carbon emission reduction and zero deforestation," Lula said.
Brazil is the world's fifth-largest emitter of greenhouse gasses, and parts of the forest now release more carbon than they capture as a result of deforestation and fires.
President Lula, who took office on Jan. 1, has made deforestation a centerpiece of his environmental policy, which he underscored during his campaign for the presidency.
However, it seems the president will encounter several setbacks.
Only last week, Brazil's Congress voted to remove responsibilities from the ministries in charge of environmental and indigenous issues.
Minister Silva described the congressional decision as a "setback" but said the government will continue working to save the rainforest. (Anadolu)