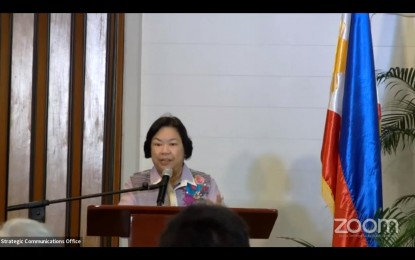 MANILA – To help empower more overseas Filipino workers (OFWs), the Department of Migrant Workers (DMW) and the Department of Trade and Industry (DTI) signed on Wednesday an agreement on business training and mentorship program.
Migrant Workers Secretary Susan Ople, during the celebration of the 28th National Migrant Workers' Day at the DMW office in Mandaluyong City, said a lot of OFWs aspire to return to the country to be with their families, thus, the Department has put together a full cycle of reintegration services for the workers.
"Our OFWs contribute to our economy through their dollar remittances but at some point in their lives, they would also need to come home and create sustainable sources of income through entrepreneurship, sound investments, or by landing a better job here at home," she said.
She said this is the reason for the tie-up with DTI, citing that "our OFW-entrepreneurs and/or their families would be able to access business training and mentorship programs that would enable them to stay together while also providing jobs to others."
Assistance assured
Through the program, interested OFW's will be given assistance on business registration process up to the marketing stage by linking them with large companies and government agencies.
Moreover, OFWs as well as their families will be given business training and undergo development programs.
They will also be provided with financial literacy training courses in partnership with DMW and the Overseas Workers Welfare Administration (OWWA).
For better market access, Ople said the OFWs' products and services will also be included in various DTI fairs here and abroad for increased promotion.
OFWs or members of their families who will be able to complete the registration of their businesses and finish the entrepreneurship training will be awarded certificates, which can be used to access livelihood or financial assistance from DMW.
Relatively, DMW also signed agreements with other government agencies such as the Cooperative Development Authority (CDA) and several private sector players to further uplift the welfare of OFWs.
Ople said the agreement with DTI and seven other major reintegration partners is in line with the directive of President Ferdinand R. Marcos Jr. to help transform an OFW's journey into "inspirational stories for all time."
"We want them to come back with excitement in their hearts on what the future holds for them and their families, through meaningful partnerships across the government bureaucracy and with NGOs and private companies serving as their mentors and cheerleaders," she added.
The country celebrates National Migrant Workers' Day every June 7 to celebrate the signing of Republic Act No. 8042 or the Migrant Workers' Act of 1995. (PNA)