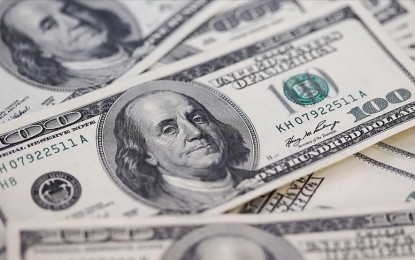 MANILA – The national government payments of its foreign currency-denominated liabilities and downward adjustments in the value of Bangko Sentral ng Pilipinas' (BSP) gold holdings reduced the country's foreign reserves to USD101.3 billion at end-May 2023.

BSP data released on Wednesday showed that the latest gross international reserves (GIR) are lower than the USD101.8 billion as of last April.

However, it said the country's foreign reserves "represent a more than adequate external liquidity buffer equivalent to 7.6 months' worth of imports of goods and payments of services and primary income."

International standard for adequate GIR level is about three to four months import cover of a country.

Rizal Commercial Banking Corporation (RCBC) chief economist Michael Ricafort said the latest GIR level is among the highest in a year, buoyed by the sustained rise in structural US dollar inflows such as the remittances from overseas Filipino workers, revenues of the business process outsourcing (BPO) sector, and the lower global crude oil prices that reduced the country's trade deficit.
Ricafort said structural dollar inflows are expected to continue to back the country's foreign reserves.

Additional boost are the foreign direct investments, increase in foreign tourist arrivals, and portfolio investments or those placed in the local equity market.

"Thus, still relatively high GIR at USD101.3 billion could still strengthen the country's external position, which is a key pillar for the country's continued favorable credit ratings for the country straight year," he added. (PNA)