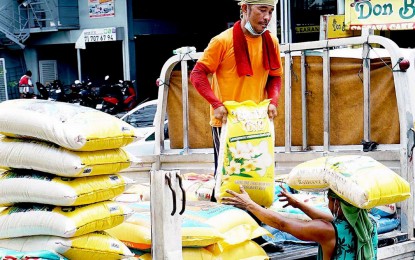 MANILA – The National Food Authority in Region 3 (Central Luzon) has taken action on the alleged distribution of poor-quality or inedible rice used in the grant of one-time rice assistance to employees of the Department of Education (DepEd) in Nueva Ecija.
In a statement Wednesday, the agency said laboratory tests and investigations were conducted to verify the accuracy of the complaint.
"In interviews so far conducted, receipt of any negative feedback on the quality of NFA rice distributed was denied. Instead, appreciation of the agency's program implementation was expressed," the NFA explained.
"As of this date, all rice issued were found to be edible, in good condition, and safe for human consumption. For the record, no formal complaints were filed and reported yet, to any of the offices of NFA Region 3," it added.
The agency is reacting to earlier reports on the distribution of rice in the province.
"The NFA Region 3 was able to secure a certification from the concerned agency-beneficiaries stating all NFA rice stocks received are of good quality and in exact weight," the agency said.
"To ensure the quality of NFA rice for distribution to remaining agency-beneficiaries. Dir. Alwin M. Uy commits to the public full and strict adherence to the guidelines prescribed by the Central Office," it added.
On the other hand, the NFA has undertaken the following strategies to ensure the quality of the rice being distributed by assigning Quality Assurance Officers (QAOs) to draw samples of rice for presentation to each assigned focal person the type, condition and quality of rice before the actual issuance; focal person of each agency-beneficiary is requested to witness the actual rice issuance to confirm the quality and exact quantity in bags and in weight based on the provided number of qualified agency-beneficiaries.
"Compared to white, long grains, and aromatic commercial rice we use to see in the market, NFA rice is an ordinary rice, from milling of locally procured palay, which conforms to the specifications of only well-milled quality rice variety," it said.
"The agency appeals for an utmost understanding that some NFA rice might possess a relatively slight smell inasmuch as it might have been stored for some time in the warehouse as buffer stock," the NFA added.
Also, the agency implemented necessary quality management measures to assure that all rice stocks for issuance are of good quality and fit for human consumption as evidenced by laboratory analysis regularly conducted.
It noted that in some unavoidable cases where bad orders might be issued, the NFA Region 3 is willing to immediately replace and deliver the same to the concerned agency-beneficiaries.
It said actions were taken by the regional and branch offices on the issues being raised by anonymous complainants through the 8888 hotline, other print and digital media have been submitted to the NFA Central Office. (PNA)