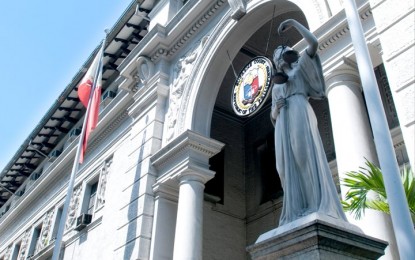 MANILA - The Supreme Court (SC) on Thursday reiterated that the Muntinlupa court ruling rejecting former senator Leila De Lima's plea to be released on bail was not a final judgment in the charges filed against her.
In a statement, the high tribunal said "as per the order of the trial court, the denial of bail of De Lima is not a final adjudication of the case."
"The former senator can also move for her release on bail at any time during the course of trial if she deems that the prosecution evidence being presented is weak," the tribunal added.
It also noted that Muntinlupa RTC Branch 256 Presiding Judge Romeo S. Buenaventura's order denying bail "involves a different case from the earlier one pending before the Muntinlupa RTC Branch, where the former senator was acquitted and where witnesses recanted their testimonies."
The Muntinlupa RTC Branch 256 has also said in its ruling that "the culpability or innocence of the accused (De Lima) will still be decided on the basis of all the evidence presented by the parties and only after trial on the merits of the case."
A hearing for the presentation of the prosecution's evidence was set by the court on June 19 and 26 regarding the case which involved allegations that De Lima tolerated drug deals inside the New Bilibid Prison (NBP) while she was justice secretary.
Last May 12, another Muntinlupa court, RTC Branch 204, dismissed the case of conspiracy to commit illegal drug trading against de Lima, related to her alleged involvement in shady deals at the NBP.
After key witness and former Bureau of Corrections deputy director Rafael Ragos recanted his testimonies last year, presiding judge Joseph Alcantara of Branch 204 said reasonable doubt was cast on the guilt of the 63-year-old De Lima, who has been under detention since February 2017. (PNA)