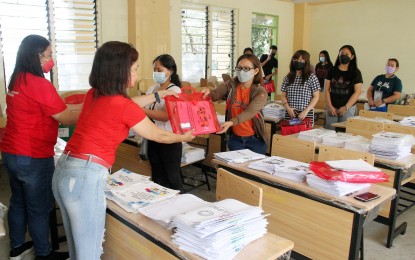 MANILA – Senator Mark Villar on Thursday pushed for the passage of a measure seeking to strengthen the promotion and delivery of mental health services for teachers by establishing programs and services that will promote the welfare and well-being of teachers.
In pushing for the passage of Senate Bill No 2258 or "The Teacher Mental Health and Wellness Act of 2023," Villar pointed out that while teachers have long been considered heroes because of their indispensable contribution to the well-being of the youth, they are also prone to psychological disorders considering the various stresses that comes with their work.
He said teachers can also be victims of trauma, as well as mental and emotional fatigue due to a variety of reasons that include heavy workload, long hours, and large class sizes, among others.
"These constant stresses might have an adverse effect on one's physical and emotional well-being," he said.
SB 2258, which Villar filed last May 29, seeks to provide holistic support to the country's educators and ensure that their mental, emotional and psychological well-being is given the same importance as their professional development.
Under the measure, the Department of Education (DepEd), in coordination with the Department of Health (DOH) and the Philippine Mental Health Association (PMHA), is mandated to establish and promote programs and services for the welfare and well-being of teachers.
These include regular mental health assessments of the teachers every school semester; regular counseling sessions focusing on stress management, emotional stability, and coping mechanisms; stress-reduction programs; access to peer support groups and mentoring programs with a focus on creating a safe space for expression and collaboration; and periodic seminars led by mental health professionals to raise awareness and 6 improve understanding about mental health issues among teachers.
Likewise, the proposed measure mandates the establishment of Mental Health and Wellness Liaisons to assist and connect teachers to mental health care providers as needed, and to monitor the progress of well-being programs within their schools or regions.
It also encourages work-life balance through the formation of interest-based clubs, sports competitions, and other recreational opportunities; and any other programs and services as deemed necessary by the DepEd. DOH, and the PMHA.
The DepEd, in coordination with the DOH and the PMHA, shall conduct a yearly monitoring and evaluation of the programs and services under this Act. (PNA)