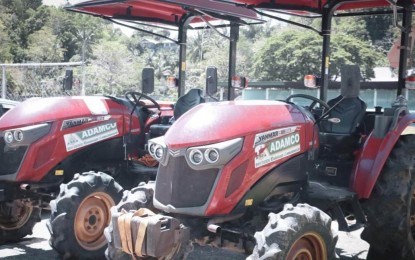 SAN JOSE DE BUENAVISTA, Antique – The PHP54 million worth of farm machinery turned over to farmers' associations in Antique by the Department of Agriculture (DA) could increase the province's rice production.
Nicolasito Calawag, head of the Antique Office of the Provincial Agriculture, said the farm equipment provided under the Rice Competitiveness Enhancement Fund (RCEF) Mechanization Program was released to 22 farmer associations in the province during the distribution held at the Binirayan Gymnasium in this capital town on Wednesday.
These include harvesters, hand tractors, floating tillers, walk-behind transplanters, and recirculating dryers that are expected to make farming more efficient.
"With the various farm machinery turned over to the farmers' associations, we expect that we could increase our rice production by 10 to 15 percent per hectare," Calawag said in an interview on Thursday.
The province produced an estimated 3.42 metric tons of palay last year.
The average yield of a hectare of palay farm in Antique is about 120 cavans but with mechanization, an additional 10-15 cavans are expected per hectare, he said.
Around 42,154 hectares of farmlands in Antique are currently planted with palay.
Calawag said shifting to mechanization can help reduce losses as well as address the problem on the lack of manpower.
"Farmers are having problems also on the manpower considering that their children are already inclined to take other courses rather than helping in their farms," he said.
The recipient associations are expected to ensure they maintain the machinery in good working condition and submit reports on their status to their local government units and the Philippine Center for Postharvest Development and Mechanization (PhilMech). (PNA)