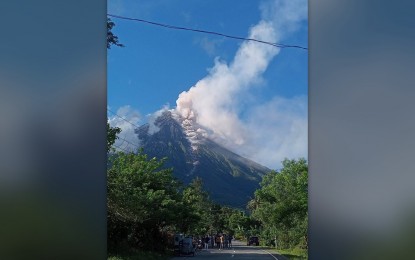 MANILA – The government is ready to provide assistance in case the heightened activities of Mayon Volcano in Albay and Taal Volcano in Batangas will result in another eruption, President Ferdinand R. Marcos Jr. said Thursday.
Marcos gave the assurance in a media interview at the Manila Hotel, saying the government is closely monitoring Mayon and Taal volcanoes.
"Naka-ready naman na tayo. Ganoon naman talaga ang ating ginagawa (We are ready. That's what we are doing), we watch it very, very closely, make sure that any of the communities that could be affected are evacuated and are given assistance while they are evacuated until the time that they can return to their homes," he said.
He said concerned government agencies are preparing for evacuations following the increasing number and volume of rockfall events in Mayon Volcano.
"Right now, what we are doing is preparing and moving people away from the area," he said, noting that Mayon's activity is "a little bit more advanced."
"I hope it doesn't happen but, unfortunately, the science tells us na parang ganoon na nga ang mangyayari (that [eruption] might happen)," he added.
The Philippine Institute of Volcanology and Seismology (Phivolcs) raised Mayon Volcano's status from Alert Level 2 (increasing unrest) to Level 3 (increased tendency towards hazardous eruption) following continuous increase in rockfall events.
The repeated collapse of the growing summit dome of Mayon Volcano has generated an increasing number and volume of rockfall events since June 5 when the alert status was raised to Level 2, the Phivolcs said in an advisory issued Thursday.
From June 5 to June 8, Phivolcs recorded 267 rockfall events and two volcanic earthquakes. There were 54 rockfall events from June 1 to June 4.
Under Alert Level 3, Mayon is exhibiting magmatic eruption of a summit lava dome, with increased chances of lava flows and hazardous pyroclastic density currents affecting the upper to middle slopes of the volcano and of potential explosive activity within weeks or days.
Phivolcs recommended the evacuation of residents within the 6-kilometer radius permanent danger zone due to the danger of PDCs, lava flows, rockfalls and other volcanic hazards.
On Taal's case, Marcos said it seems that it is "not in such a precarious, dangerous situation."
The Office of Civil Defense (OCD) on Thursday said it conducted preparedness and coordination conferences with Phivolcs, the Department of Health and the Department of Environment Natural Resources due to the raising alert levels and unrest of Mayon and Taal volcanoes.

'Mission-critical' equipment
Telecommunications company PLDT and its wireless subsidiary Smart (PLDT-Smart) have started preparing "mission-critical" equipment and personnel.
In a statement on Thursday, PLDT-Smart first vice president and head of Group Corporate Communications Cathy Yang said the companies' network teams are already "pre-positioned and ready for deployment" to areas that could be affected if the situation escalates.
"While there are still no volcano-related concerns reported in the field offices, PLDT and Smart's network and operations teams have started preparing and will continue to be on full alert should the volcanic movements increase in the coming days," Yang said.
PLDT-Smart's field operations responders, she said, will be deployed with personal protective equipment and will be reinforced by the companies' local contractors.
"While no noticeable ground movement was felt as of writing, PLDT and Smart urge everyone to take necessary precautions, including activating their emergency cell broadcast system on their mobile devices, and heed the alerts and warnings of local governments and disaster response authorities," she said. (with reports from Raymond Carl Dela Cruz/PNA)