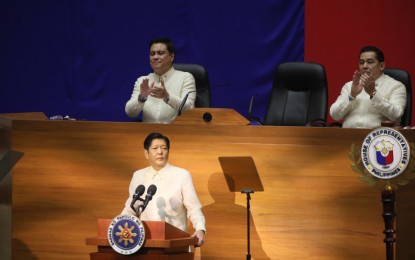 MANILA – President Ferdinand R. Marcos Jr. on Thursday bared that he is still preparing the materials for his second State of the Nation Address (SONA) which will be delivered on July 24.
"The truth of the matter is we're still preparing everything, all the materials that we're going to put together," he told reporters on the sidelines of an event at the Manila Hotel in Manila when asked for an update on his SONA preparations.
"The [second] SONA, it will be a report to the nation as to what the situation [is], what happened in the last year since the last SONA, where we are now, what we have managed to do, and where we still have work to do. That is essentially the template that I am going to use," he added.
Marcos expressed optimism that in his second SONA he would be able to report the accomplishments of his administration, including the fulfilled plans enumerated in his first SONA.
"The things that I mentioned in the first SONA, we will have a look and see anong nangyari sa mga napag-usapan noong unang SONA. Sa palagay ko naman, meron tayong maipapakita (what happened to the plans we mentioned during my first SONA. I think, we will be able to report some progress)," he said.
To recall, it was Marcos who drafted his first SONA delivered at the Batasang Pambansa in Quezon City on July 25, 2022.
Marcos' first SONA was one hour and 14 minutes long, highlighting his administration's agenda on economic recovery, coronavirus disease 2019 (Covid-19) pandemic response, foreign policy and legislative priorities.
The most applauded statements in Marcos' speech include his emphasis to bring the much-needed health facilities outside Metro Manila, as well as his promise not to surrender the country's territory.
Marcos was also lauded for delivering a "data-driven" SONA that laid out his plans for the Philippines during his six-year term.
The House of Representatives has already begun its preparations for Marcos' SONA.
The Batasan Complex where the House of Representatives is located is the traditional site of the Philippine president's annual speech.
Article 7, Section 23 of the 1987 Constitution requires the President to "address the Congress at the opening of its regular session".
The Philippine president delivers the SONA every year, usually held every last Monday of July, to report the state of the country, unveil the administration's agenda for the coming year, and ask Congress to pass priority legislative measures. (PNA)