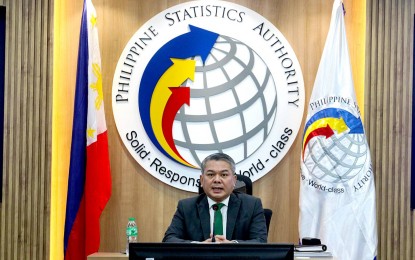 MANILA – The country's unemployment rate dropped to 4.5 percent in April this year from 5.7 percent in the same month last year due to the further reopening of the economy, the Philippine Statistics Authority (PSA) reported Friday.
In a briefing, National Statistician Dennis Mapa said preliminary results of the April 2023 Labor Force Survey (LFS) showed the number of unemployed persons during the month was estimated at 2.26 million, down from the 2.76 million in April last year.
Labor force participation rate (LFPR), meanwhile was at 65.1 percent or about 50.31 million Filipinos aged 15 years and over who were either employed or unemployed.
This was higher than the 63.4 percent LFPR in April last year.
Employment rate in April also went up to 95.5 percent from 94.3 percent in 2022.
Mapa said industries with the largest increase in employment were wholesale and retail trade, accommodation and food service activities, transportation and storage, and other service activities.
"Basically this is because we see the reopening of the economy, there are more tourists, more people are going out that's why the largest source of employment are the accommodation and food service activities plus transportation. Those are the areas the we have an increase in the number of employed persons," Mapa said.
The number of underemployed or those who expressed the desire to have an additional hour of work in their present job or to have an additional job, or to have a new job with longer hours of work was at 6.20 million, translating to an underemployment rate of 12.9 percent.
This was lower than the reported 14.0 percent in April last year.
In a statement, the National Economic and Development Authority (NEDA) said the government would continue to sustain the recent improvements in the country's labor market conditions by implementing crucial economic reforms and leveraging digital technology to enhance workers' employability.
"To ensure the continuation of this trend, the government affirms its commitment to the unimpeded implementation of economic liberalization reforms and other essential legislation. These efforts will be complemented by comprehensive collaborations among government entities and society as a whole to enhance the employability and productivity of our workforce," NEDA Secretary Arsenio Balisacan said.
The government will also capitalize on digital technologies to foster innovation, upgrade services, and respond to the needs of the workforce, he added.
"Hence, the complete execution of the Philippine Digital Workforce Competitiveness Act is also vital for equipping the workforce with digital technology skills and fostering innovation," Balisacan said.
Balisacan added that there was a need for collaboration among government agencies, training institutions, technology providers, and other stakeholders to address skills mismatches, provide guidance on in-demand skills, and empower Filipinos through the utilization of technologies such as artificial intelligence and extended reality. (PNA)