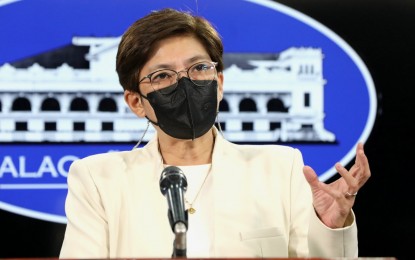 MANILA – A Camillian priest thanked Department of Health (DOH) Undersecretary Maria Rosario Vergeire for her service as the agency's officer-in-charge (OIC) for almost a year.
Fr. Dan Cancino, executive secretary of the Catholic Bishops' Conference of the Philippines-Episcopal Commission on Health Care, (CBCP-ECHC), said Vergeire's stint as DOH's OIC has been significant, especially during the coronavirus disease 2019 (Covid-19) pandemic.
He noted that Vergeire strengthened the relationship between DOH, local governments, communities, and various groups and institutions to improve and extend health services in the country.
"I thank Dr. Rosette Vergeire for leading the Department for the past months with true and inspiring commitment and vigor," the Catholic priest said in an interview over Church-run Radio Veritas on Friday.
"Her love for the sick and strong conviction in building partnerships is a shining light in the health system of our country," he added.
President Ferdinand R. Marcos Jr. named Vergeire as OIC of the DOH on July 14, 2022, after former Health Secretary Francisco Duque III's term ended on June 30 of the same year.
On Monday, Marcos named Dr. Teodoro Herbosa as the new DOH Secretary.
In 2015, Vergeire served as DOH spokesperson in the administration of former Presidents Benigno Aquino III and Rodrigo Duterte.
Vergeire will remain as DOH Undersecretary for Public Health Services Team (PHST). (PNA)