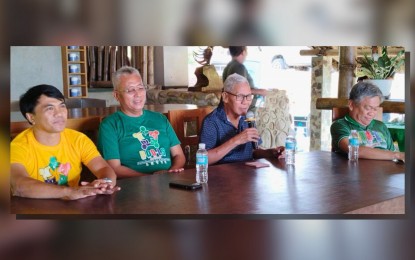 MATAG-OB, Leyte – At least five town mayors in Leyte's 4th district have allied to push stronger tourism programs backed by national government agencies.
Mayors Bernardino Tacoy of Matag-ob town, Ramon Oñate of Palompon, Edgardo Cordeño of Isabel, Sixto Dela Victoria of Albuera, and Rolando Villasencio of Merida have committed to a partnership that seeks to solicit support from national government agencies that could boost projects related to tourism development.
"We are engaging in more tourism events and activities. We need more help in our intentions to create more opportunities for employment through tourism," Tacoy said in a press briefing here Friday.
Oñate told reporters the alliance seeks to share tourism gains of Palompon town to nearby areas. Palompon is known for its Kalanggaman Island, the top destination in the province.
"Since visitors are already in the 4th district, why not promote nearby destinations in Leyte? We have a culture that we can share with each other. We want to tap each national government agency to help us. It's hard if we will not work as one since we are small towns," Oñate said.
Other destinations in Palompon are the terrestrial eco-adventure park, Buenavista underwater caves, Tabuk marine park fish and bird sanctuary, Masaba ecological park, and the Sky Garden and eco-village.
Activities in Isabel include Dupong River paddling, Badjao eco-village tour, and experiencing the refreshing scenery of Il Fattoria, a place to commune with nature.
In Matag-ob, key destinations include Santa Rosa Hills, Bulak and San Vicente Caves, and Bondari peak, a destination with 360 degrees breathtaking views and landscapes.
Among the destinations in the circuit tour in Merida are Mount Magsanga, aqua farms, San Jose Cave, Bird and Fish Sanctuary, and Tomorrowland resort.
Albuera town is known for the Sibugay Mountain Resort, a superb eco-tourism resort that was created to serve as a suitable alternative place of relaxation.
Dela Victoria said it's high time to promote their town as a tourism destination after some of its villages became known for the illegal drug trade.
It can be recalled that then Albuera Mayor Rolando Espinosa, who was a drug suspect, was shot dead inside the sub-provincial jail in Baybay City in 2016. His son, Kerwin, who is now detained, is being accused of heading the biggest illegal drug operations in Eastern Visayas.
Meanwhile, Cordeño dismissed rumors that the alliance was formed to challenge Rep. Richard Gomez in the 2025 elections.
"There is no other purpose but to unite and protect these municipalities. There is no intention in politics. Nobody from us is running in Congress in 2025," he added.
Tacoy, Cordeño, and Oñate formed the alliance in August 2022, months after the elections.
Dela Victoria joined the alliance in January this year and Villasencio forged ties with them last April. Only Villasencio was not present during the press briefing. (PNA)