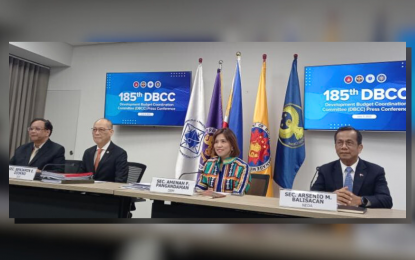 MANILA - Economic managers on Friday adjusted several macroeconomic indicators for 2023, including growth assumptions for exports and imports of goods, citing the impact of external developments.
The exports growth assumption for this year was slashed to 1 percent from 3 percent, and the imports growth assumption from 4 percent to 2 percent, following the 185th meeting of the inter-agency Development Budget Coordination Committee (DBCC).
"The main factor that led to the adjustments of the external trade numbers are to account for the preliminary PSA (Philippine Statistics Authority) data that we now have for Q1 (the first quarter)," said Bangko Sentral ng Pilipinas (BSP) Deputy Governor Francisco Dakila Jr. in a briefing after the meeting of the economic managers at the Department of Finance (DOF) office.
He said the PSA figures will still be adjusted "to make them suitable for the balance of payments data that we are citing."
Citing preliminary PSA data, Dakila said goods exports in the first three months this year contracted by 13.2 percent, and imports by 3.3 percent.
"The biggest factor behind the deceleration in exports would come from electronics products and that would be attributable to tapering global demand for semiconductors," he said.
He said exports of coconut and mineral products also posted slower growth "but these are mainly driven by the decline in commodity prices."
For goods imports, Dakila traced the slower expansion to "moderation in commodity prices along with weaker exports and manufacturing activity."
He said moderation was also noted for both raw materials and immediate goods.
"So we note that there is a large linkage between our exports performance and the various demand for imported goods," he said.
While the growth assumptions for goods exports and imports for this year was adjusted, the economic managers, on the other hand, kept the 6 percent assumption for exports for 2024 until 2028, and the 8 percent assumption for imports for the same period. (PNA)