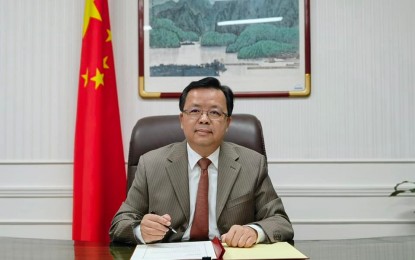 MANILA — The Chinese naval training ship Qi Jiguang will dock in Manila on June 14 for a "goodwill port visit", the Chinese Embassy in Manila said Friday.
The training ship earlier departed Brunei where it conducted in-depth exchanges and environmental protection activities with the Royal Brunei Navy.
"This is a Chinese PLA Naval training ship for a goodwill port visit to Manila. It has paid visit to Vietnam, Thailand and Brunei before the Philippines," the embassy said.
The vessel is 163 meters long, 22 meters wide, has a full load displacement of more than 9,000 tons, and has a maximum speed of 22 knots, which can meet the requirements for wind resistance of grade 12.
Its visit also coincides with the 48th anniversary of formal diplomatic relations and 22nd anniversary of China-Philippines Friendship.
In a separate statement, Chinese Ambassador Huang Xilian reiterated Beijing's commitment to forging stronger relations and hoped for more opportunities to cooperate with Manila.
"Today, June 9, we commemorate the 48th anniversary of the formal diplomatic relations between China and the Philippines and the 22nd celebration of China-Philippine Friendship Day. Thank you to all our Filipino friends for being part of our centuries-long friendship and ever-growing cooperation in many areas," he said.
"From trade, business, agriculture, tourism, people-to-people exchanges, and more, we have witnessed our bilateral ties thrive and open up more opportunities for our countries and peoples," he added. (PNA)