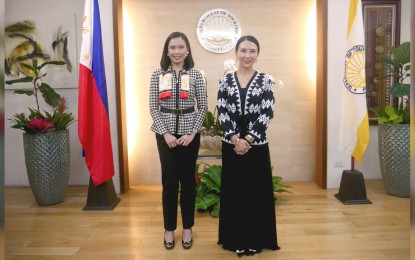 MANILA – Tourism Secretary Christina Frasco and New Perspective Media (NPM) Group CEO and founder Karen Franco have agreed to help each other find ways to drive tourists from the Middle East to the Philippines by promoting medical tourism, halal travel, diving, arts, and culture, among others.
In a meeting at the Department of Tourism (DOT) headquarters in Makati on June 5, the two engaged in discussions on the diverse range of tourism opportunities that the Philippines could promote in the Middle East, it was reported in the Filipino Times.
Frasco thanked Remo for the invaluable insights she shared during the meeting, acknowledging their potential to aid the department in positioning the Philippines as a global travel destination and capturing the lucrative Middle East outbound travel and tourism market.
She said the Philippines has been hailed as the top diving destination in the world by many organizations.
The country, home to the UNESCO World Heritage Site Tubbataha Reefs Natural Park, won the "Best Dive Destination" during the Diving, Resort and Travel Show in Malaysia on Feb. 24-26, the "World's Leading Dive Destination" during last year's World Travel Awards, and "Asia's Leading Dive Destination" from the same group from 2019 to 2022.
Meanwhile, Remo congratulated the DOT for the well-deserved recognition of the Philippines as the Emerging Muslim-Friendly Destination of the Year at the esteemed Halal in Travel Global Summit 2023, held in Singapore on June 1.
She also updated the tourism secretary on NPM's forthcoming initiatives in the UAE, including the 10th annual Philippine Property and Investment Exhibition, as well as the upcoming 2nd Philippine Economic and Investment Summit, both slated to take place in Dubai on May 11 to 12, 2024.
The twin events will feature the Philippine International Travel Fair to promote localities and destinations primed for tourism and investment, and realize the travel aspirations of the 192 nationalities in the UAE.
Remo – who is also the publisher of The Filipino Times, the largest news media for overseas Filipinos globally – emphasized that overseas Filipinos serve as the most effective ambassadors of the Philippines to the rest of the world, as their highly regarded professionalism and friendliness create a profound impact on fostering positive perception about the country.
Since Dec. 2023, the DOT has been incentivizing overseas Filipinos to invite tourists to explore the Philippines through the "Bisita Be My Guest" (BBMG) program.
These incentives include travel discounts and a chance to win a condominium and complimentary vacation trips.
The meeting was also attended by DOT Undersecretary Shereen Gail Yu-Pamintuan, DOT Undersecretary Ferdinand "Cocoy" Jumapao, and NPM Group Editorial Director Mark Nituma. (PNA)