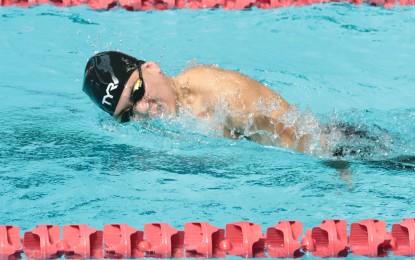 MANILA – Gary Bejino will compete alongside Angel Mae Otom and Ernie Gawilan at the 11th World Para Swimming Championships in Manchester, United Kingdom from July 31 to Aug. 6.
He was offered a direct invitation after his application for wild card was turned down.
The 27-year-old Bejino is coming off a two-gold (200m and 400m freestyle) and three-silver (50m butterfly, and 50m and 100m freestyle) performance in the S6 category of the just-concluded 12th ASEAN Para Games in Cambodia.
The times he submitted in the 50m (33.52), 100m (1:11.96) and 400m (5:43.67) freestyle, and 50m butterfly 36.07) during the Citi Para Swimming World Series in Singapore in April, which served as qualifying for the World Championships, were taken into consideration.
Bejino was only seven years old when parts of his right arm and left leg were amputated after an electrocution accident.
Otom and Gawilan qualified for the World Championships through the Minimum Qualifying Standard (MQS) and Minimum Entry Time (MET).
Otom, who has a congenital upper limb deficiency, topped the women's 50m backstroke in 42 seconds. She clocked 49.47 seconds in the 50m butterfly to finish third.
The MQS in the 50m backstroke and the 50m butterfly are 52.66 seconds and 56.15 seconds, respectively.
Otom, a University of the Philippines freshman taking up Sports Science, also qualified in the 50m freestyle (42.76, MQS 45.07) and 200m freestyle (3:53.84, MQS 3:55.34).
While Gawilan did not get a medal in Singapore, the times he submitted in the 400m freestyle (5:06.02, MQS 5:16.80), 100m freestyle (1:07.99, MQS 1:08.16), 50m freestyle (32.78, MET 32.86), and 50m butterfly (34.55, MQS 36.67) were enough to make it to the World Championships, his third after competing in Scotland (2015) and London (2019).
A native of Davao City, Gawilan saw action at the 2016 (Rio de Janeiro) and 2020 (Tokyo) Paralympics. In 2014, he became the first Filipino gold medalist in the Asian Para Games when he topped the men's 200m Individual Medley in Incheon, South Korea.
Otom (S5) bagged four gold medals (200m Individual Medley, 50m backstroke, 50m butterfly and 50m freestyle), while Gawilan (S7) pocketed two golds (200m IM and 400m freestyle), two silvers (50m butterfly and 100m freestyle) and one bronze (100m backstroke) at the Cambodia Para Games.
Otom debuted in the 2022 edition hosted by Indonesia with three gold medals coming from the 50m backstroke (41.58), 50m butterfly (48.070), and 50m freestyle (41.40).
"We are hoping that both athletes will have an outstanding performance for the upcoming World Championships, which is also a pathway going to the 2024 Paris Paralympic Games," head coach Tony Ong said in a statement on Sunday.
Ong is assisted by Ral Rosario, Brian Ong (strength and conditioning coach), and Leonardo Ramos. (PNA)