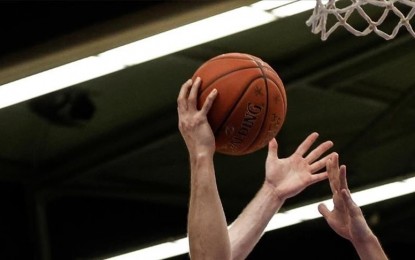 MANILA – Gilas Pilipinas has finally begun training for the FIBA World Cup.
However, as early as the first real practice on Monday night, injuries started taking a toll on the national team.
Only 10 players were present during the training session at the Meralco Gym in Pasig City -- brothers Thirdy and Kiefer Ravena, Ange Kouame, June Mar Fajardo, AJ Edu, CJ Perez, Japeth Aguilar, Rhenz Abando, Chris Newsome and Poy Erram.
With Edu and Erram relegated to observer roles due to their respective lingering pains, Gilas called it a night after just an hour.
Some of the players not in attendance are also resting their own injuries
With the countdown to the Aug. 25 start getting nearer every day, coach Chot Reyes admitted that the injury woes have already disrupted their calendar for the buildup.
"It's already affected the schedule. We're already on a... the best way to put it is on a cramped schedule. But wala na tayong magagawa (we can't do anything about it). The reality is that injuries are a part of it," Reyes said at the conclusion of practice.
Adding to the early woes, Reyes confirmed that Carl Tamayo won't join the national team practice for the FIBA World Cup.
Reyes said that the camp of the newly crowned Japan B.League champion relayed to them his decision earlier in the day.
"Today, we already got word that Carl Tamayo is going to beg off because he doesn't think he's going to be fully healthy to go through the entire process, and we respect that. So that's one person less," Reyes said after Gilas finally swung to practice at the Meralco Gym.
Reyes then bared that Tamayo has a knee injury, but he also allayed fears that it could be a dreaded one.
"His MRI (magnetic resonance image) did not show any significant injury, but I think he needs to get some work done on his knee. I think he needs to get some PRP (platelet-rich plasma) next week," Reyes said.
While he added that Tamayo could join the practices as early as the week after his knee treatment, Reyes rued that Tamayo would not make it in time for Gilas' Lithuanian trip.
Tamayo is one of the players Reyes included in his "23 for '23" Gilas Cadets pool in 2018 and one of only six who eventually made the World Cup pool.
With him begging off, Gilas' pool is now down to 20 players.
While Reyes said that he is open to call up more players to the Gilas pool, the concern is their upcoming Lithuanian trip.
"There's no hard and fast number for the pool. We can always add guys or subtract guys from the pool. But the question is right now, we're preparing for Lithuania, so I don't think there's enough time to get somebody in and get his visa for Lithuania," Reyes said.
However, he added that the anticipation of injuries is the main reason behind putting up a pool.
"That's why we have a pool because precisely of all these things," Reyes said. (PNA)