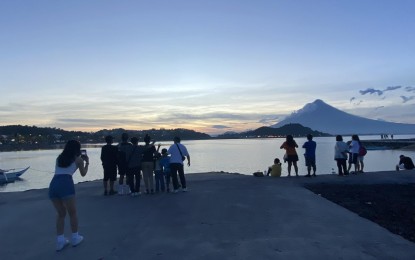 LEGAZPI CITY – The number of local and foreign visitors arriving in Albay province has doubled as many want to witness Mayon Volcano's increasing activities.
Night photos of the volcano's glowing summit because of the red-hot lava flowing from the crater have been circulating on social media.
As Mayon's restiveness started to escalate on June 8, the Philippine Institute of Volcanology and Seismology (Phivolcs) placed it under Alert Level 3.
Despite this, more visitors have been arriving in the province, prompting the Albay Provincial Tourism, Culture and the Arts Office (PTCAO) to recommend viewing sites for those who want to watch and document the volcanic activities to protect them from any hazards.
In an interview on Tuesday, Dorothy Colle, Albay PTCAO chief, said to ensure the safety of the visitors, the viewing sites designated were those beyond the 8-km permanent danger zone (PDZ).
"As to the same-day visitors, like in Cagsawa Ruins, before they recorded 152-200 visitors per day, but with Mayon Volcano activities, they recorded 500 visitors per day. For the tourist arrival, we need to verify first the different accommodations in Albay since when we say, tourist, they need at least 24 hours stay," Colle said.
For the Legazpi City area, the viewing sites are the Legazpi Boulevard (16.1-km from Mayon); Sawangan Park (14.7-km); Legazpi Highlands (15.2-km); Kalayaan Park (13.2-km); and Our Lady of Salvacion Giant Statue (11.1-km).
In Daraga town -- Cagsawa Ruins Park (10.38-km); Farm Plate (14.38-km); Daraga Church (12.01-km); and National Museum (10.18-km).
In Camalig town -- Solong Eco Park (16.03- km); Quituinan Hill (9.76-km); and Quitinday Greenhills (18.7-km).
In Ligao City -- Mt. Masaraga Campsite (9.84-km); Paayahayan sa Bulod (10-km); Kawa Kawa Hill, Bambusetum and Divine Mercy Monastery Church (19.7-km); Hobbit Hill (9.79-km); and Ilah Nature Park (9.82-km).
Colle said these viewing sites are safe spots that will give visitors a clear view of Mayon Volcano.
"Safety first for our visitors and tourists. Aside from viewing Mayono Volcano, Albay has so many tourist destinations that they can enjoy like beaches, waterfalls and historical places," she said.
There are currently some 4,215 families or around 15,017 persons inside 22 evacuation centers in the province amid Mayon's restiveness. (PNA)