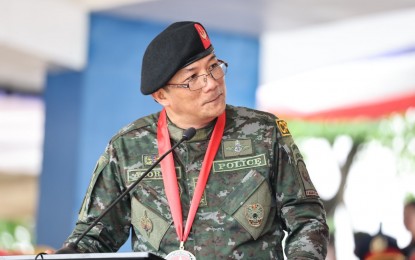 MANILA – The Philippine National Police (PNP) on Tuesday said it is keeping a close watch on 36 private armed groups (PAGs) in the Bangsamoro Autonomous Region in Muslim Mindanao (BARMM) ahead of the Barangay and Sangguniang Kabataan Elections (BSKE) in October this year.
PNP chief Gen. Benjamin Acorda Jr. said this is the reason why he has already visited the BARMM twice in almost two months since he assumed as the country's top cop.
"Most of these PAGs are in eight regions. Mostly in BARMM, this is where we are focusing on because in BARMM alone, we monitored 36 (PAGs)," Acorda said in a radio interview.
"So our focus is intelligence-driven operations in guiding our regional offices to arrest all of them," he added.
Acorda earlier disclosed that there are three active and 45 inactive PAGs across the country, each member and leader is now closely being monitored.
During his two visits to BARMM, Acorda said he had met with various groups and stakeholders that could assist the PNP in preventing PAGs from being mobilized and used for election sabotage.
Among them, he said, are the military and local peace groups that have been advocating peace and order in Mindanao.
"The good news here is that all the peace groups that we would meet already gave us the commitment that they would assist to ensure the peaceful and orderly conduct of barangay and SK elections," Acorda said.
The PNP is the top law enforcement agency being tapped by the Commission and Elections to secure elections.
Acorda, meanwhile, said they are closely coordinating with the military in dealing with the threat of large armed groups such as the terrorist Abu Sayyaf Group. (PNA)