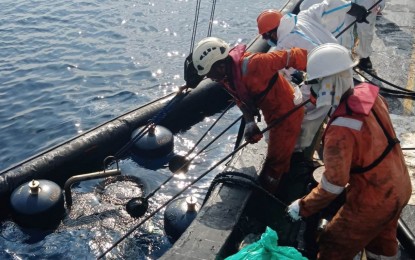 MANILA – A total of 24,698 fisherfolk from three regions have been affected by the oil spill caused by the sinking of tanker M/T Princess Empress off Naujan, Oriental Mindoro on February 28.
In its update Wednesday, the National Disaster Risk Reduction and Management Council (NDRRMC) said affected fishers number 337 in Calabarzon, 24,266 in Mimaropa, and 95 in Western Visayas.
The NDRRMC said these fishers lost an estimated PHP4.99 billion in production due to the oil spill.
Meanwhile, affected families were placed at 42,487 or equivalent to 200,244 persons residing in 262 barangays in Calabarzon, Mimaropa, and Western Visayas.
The government has provided PHP662.4 million worth of assistance to the three regions. These include face masks, bottled water, assorted medicines and vitamins, cash-for-work assistance, food, and other items.
The Philippine Coast Guard earlier said the siphoning operations for the Oriental Mindoro oil spill could be completed by June 19.
The Princess Empress was reportedly carrying about 800,000 liters of industrial fuel oil when it encountered engine trouble, leading to the disaster.
As of May 31, about 83.74 percent or 64.43 km. of the 79.33-km. affected coastlines have been cleaned.
The ongoing cleanup operations have collected about 44,656.30 liters of oily water mixture, along with 10,708 sacks, 997 drums, 119 pails, and 648 1-tonner bags of oil-contaminated sand/debris and oily waste from the three regions.
On June 2, the dynamic support vessel Fire Opal arrived at the Subic Bay Freeport Zone to begin extraction of the remaining oil from the sunken vessel.
The vessel extracts the oily waste and transfers them to a tanker for disposal. (PNA)