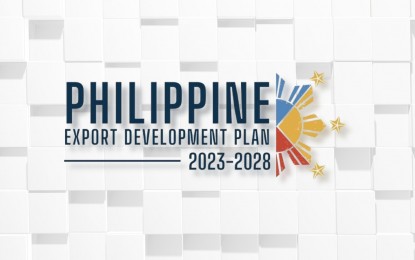 MANILA – The Department of Trade and Industry (DTI) has highlighted the crucial role of the Regional Comprehensive Economic Partnership (RCEP) in hitting the export targets of the Marcos administration.
On Thursday, the Export Development Council (EDC) launched the Philippine Export Development Plan (PEDP) 2023-2028, which aims to nearly double the country's export revenues over the next five years.
"RCEP utilization is an essential component in the successful implementation of the PEDP," DTI Secretary Alfredo Pascual said.
Under the PEDP, the government targets an export revenue of USD126.8 billion by the end of 2023; USD143.4 billion in 2024; USD163.6 billion in 2025; USD186.7 billion in 2026; USD212.1 billion in 2027; and USD240.5 billion in 2028 or an average annual growth of 11 percent for the Philippine exports of goods and services.
According to the blueprint, exports of electronics and electrical goods will lead the export revenues, sharing 44 percent of the country's total outbound trade.
Annual export targets for the semiconductor and electronic goods are at USD53.7 billion in 2023, USD61.1 billion in 2024, USD70 billion in 2025, USD80.3 billion in 2026, USD92.4 billion in 2027, and USD106.4 billion in 2028.
Following the electronics sector is the information technology and business process management (ITBPM) services, with revenue targets of USD36.1 billion in 2023, USD40.3 billion in 2024, USD45 billion in 2025, USD50.3 billion in 2026, USD56.4 billion in 2027, and USD63.2 billion in 2028.
Aside from electronics and ITBPM, among the major exports of the country listed in the PEDP include agriculture and agri-based exports; transport export products; home furnishings; wearable, fashion accessories and travel goods; minerals, and chemicals.
All these exports account for 88.5 percent of the country's total export revenues.
"We need to leverage the full spectrum of our preferential trade arrangements like the RCEP and our other FTAs (free trade agreements)," Pascual said.
RCEP entered into force in the country last June 2.
Through this FTA, Philippine goods can enter tariff-free to 14 other participating countries —the 10 ASEAN member states, Japan, South Korea, Australia, and New Zealand.
"The RCEP is expected to provide a more conducive trade environment for cross-border e-commerce and facilitate the internationalization and participation of MSMEs (micro, small and medium enterprises) in global value chains," the PEDP said.
Philippine exports fell short of its targets, except for the first year of the implementation, in the previous PEDP, which ran from 2017 and 2022. (PNA)