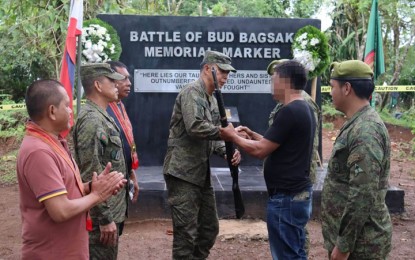 ZAMBOANGA CITY – A young foreign radical and two Abu Sayyaf Group (ASG) bandits, one of them a mid-level leader, have separately surrendered to authorities in Sulu, military officials said Friday.
The military identified the surrenderers as Ellam Abduraji Panduga, 27, an ASG sub-leader; a certain "Tigong," 41, an ASG follower; and "Ibrahim," a 13-year-old Egyptian national.
Maj. Gen. Ignatius Patrimonio, 11th Infantry Division commander, said Panduga and Ibrahim surrendered at about 2:30 p.m. Wednesday to troopers of the 1103rd Infantry Brigade in Indanan, Sulu.
"He (Ibrahim) is the last juvenile foreign (militant) on the periodic list," Patrimonio said in a statement.
Ibrahim is believed to have entered the country in 2017 as a tourist through the Manila International Airport with his stepfather, mother, and two brothers.
He disclosed that their family joined the ASG in Basilan in 2017 and transferred to Sulu to join ASG leader Hatib Hajan Sawadjaan in 2018.
Ibrahim's mother, Reda Mohammad Mahmud, blew herself as a suicide bomber while attacking an Army checkpoint in Barangay Kajatian, Indanan town on Sept. 8, 2019.
His stepfather, Abduramil, and brother Abdurahman died in an encounter with the military in Barangay Kan Islam, Indanan, Sulu, on Nov. 7, 2019.
His other brother, Yusof, was also killed in a clash with soldiers in Igasan, Patikul, Sulu on April 17, 2021.
Ibrahim joined the ASG at the age of 10 and was involved in numerous clashes in Sulu. He incurred two injuries on his head and right forearm in one of the clashes.
Speaking in the Tausug dialect, Ibrahim expressed his resentment against his mother who dragged him and his brothers into horrific situations where they must fight against government forces and conduct atrocities.
He said he thought they were just going on a vacation trip to the Philippines, but he was forced to join the ASG.
On the other hand, Panduga is a sub-leader of Sulu-based ASG senior leader Radullan Sahiron.
Panduga was recruited in 2009 when he was just 15 years old. He also acted as close-in security of Sahiron and the guide of ASG members in the area of Patikul town.
He was involved in numerous armed clashes between the ASG bandits and government forces from 2009 to 2021.
Panduga and Ibrahim handed over two M16 rifles, a magazine, and ammunition during their surrender.
The two underwent custodial debriefing and were presented to Col. Christopher Tampus, Army's 1103rd Infantry Brigade commander, at the unit's headquarters in Indanan town.
Lt. Gen. Roy Galido, commander of Western Mindanao Command, said the surrender of Panduga and Ibrahim shows that the government has won the hearts not only of the people but also the remnants of the various threat groups.
"Our successful operations only prove that with commitment and collaboration, we can accomplish so much in the battle against terrorism, insurgency, and any form of criminality," he said in a statement.
Meanwhile, Lt. Col. Benito Ramos Jr., commander of the Army's 2nd Special Forces Battalion (2SFBn), said Tigong surrendered and handed over a Garand rifle to their troopers in Talipao, Sulu on Thursday.
Ramos said Tigong, a cousin of ASG sub-leader Idang Susukan, joined the group in 2011.
"When Susukan was captured in August 2020, he (Tigong) hid until he decided to surrender and avail of the Localized Social Integration Program of the government," Ramos said.
He said Tigong's surrender was made possible through the collaborative efforts of the 2SFBn troops and the Municipal Task Force to End Local Armed Conflict (MTF-ELAC) of Talipao.
The MTF-ELAC is Sulu's version of the National Task Force to End Local Communist Armed Conflict. (PNA)