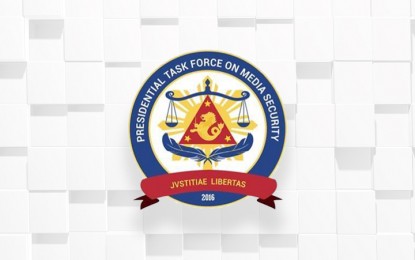 MANILA – The Marcos administration is committed to providing a "safe and secure" environment to the Philippine press, the Presidential Task Force on Media Security (PTFoMS) said on Friday.
PTFoMS executive director Paul Gutierrez said the decision of President Ferdinand R. Marcos Jr. to support the task force's continued operations under his watch is a testament to the current administration's dedication to upholding and protecting the media workers' rights.
"The decision of President Marcos Jr. to continue with the PTFoMS is the clearest demonstration of his administration's commitment to the strengthening of our democracy and in sustaining an environment that is generally safe and secure for all members of the press," Gutierrez said.
"The corollary aim is to ensure that all transgressors of media rights are made accountable before the law," he added.
Gutierrez issued the statement to refute the Reuters Institute for the Study of Journalism's 2023 report that the Philippines' media landscape remained "largely grim" even after the end of six-year term of former President Rodrigo Duterte.
The report also claimed that attacks on journalists, including red-tagging, killings and the use of "lawfare," continue under the Marcos administration, an allegation dismissed as "false" by Gutierrez.
Gutierrez said the supposed escalation of attacks was not data-based.
"How can the Philippine media environment be described as 'grim' when the perpetrators of even sensational cases are identified and charged in court," he said, stressing that reports of threats and harassments against media workers should be treated with caution.
"Experience shows that in most cases, the threats and harassments are due to personal reasons involving a reporter and the subject of an adverse commentary or news report. However, some quarters active in the international scene habitually report these incidents as added 'proof' of our shrinking democratic space," Gutierrez added.
Based on the PTFoMS' monitoring, there are 195 reported media killings between 1986 and June 2023.
Around 21 cases were reported under former President Corazon Aquino; 11 under former President Fidel Ramos; four under former President Joseph Estrada; 82 under former President Gloria Macapagal Arroyo; 40 under former President Benigno Aquino III; 34 under Duterte; and three under Marcos.
Gutierrez noted that a near majority of 57 cases have been established by probers as "not work-related," while only 28 of the incidents have been confirmed as "work-related."
He also stressed that the number of victims appeared large as it included the 34 journalists who were killed during the 2009 Ampatuan Massacre in Maguindanao.
He added that suspects in about 51 killing incidents have already been convicted in court.
"Let me point out that in the case of the Ampatuan Massacre whose verdict was handed down in December 2019, a total of 45 suspects, including the masterminds, Datu Andal Ampatuan and Zaldy Ampatuan Jr., were convicted by the court," Gutierrez said.
"Let us not forget that this verdict is also the single biggest conviction of suspects in the attack against journalists anywhere in the world. As far back then in 2019, the decision already disproved the accusation that our judicial system is not working and therefore needs outside intervention for it to remain credible and functional," he added.
Gutierrez, who assumed as PTFoMS head on May 25, 2023, also noted that all the suspects in the three reported media killings under the Marcos administration have been identified and charged in court.
He was referring to the case of Renato Blanco, a Negros Oriental broadcaster who was stabbed to death on Sept. 18, 2022; radio blocktimer Percival "Percy Lapid" Mabasa who was shot dead on Oct. 3, 2022 in Las Piñas City; and Cresenciano Bundoquin, radio blocktimer in Calapan City, Oriental Mindoro who was also shot dead on May 31, 2023.
Gutierrez also stressed that the use of "red-tagging" has never been a policy of the Marcos administration.
He added that the reported 941 counts of cyber libel cases filed against two journalists in Quezon province by a local official had already been dismissed by the court in February this year.
"The dismissal should be seen as proof that our judicial system is functioning and that our mechanism for redress of grievances is also working. Nevertheless, I join the campaign to prevent the law on cyber libel and libel from being abused by some quarters of our society against any member of the press," he said.
"An environment ensuring the life, liberty and security of the members of the press is not only one of the country's international commitments but also a primary responsibility of the government to its people," Gutierrez added. (PNA)