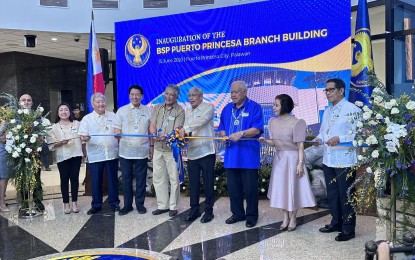 PUERTO PRINCESSA, Palawan – The Bangko Sentral ng Pilipinas (BSP) on Friday said a newly inaugurated branch in this city will strengthen its ability to provide oversight to banking operations and encourage financial inclusion in the five-province Mimaropa Region.
"Regional offices oversee operations of branches under its jurisdiction, perform regional economic surveillance, and facilitate financial literacy and financial learning advocacy programs, in addition to performing and administering cash and gold buying operations," the BSP said in a statement.
It was further explained that in addition to supporting the currency needs of the province, the branch will boost the central bank's financial inclusion and economic and financial learning programs in Region 4B or Mimaropa.
The monetary regulator's latest branch officially opened Thursday in ceremonies led by BSP Governor Felipe Medalla, Palawan Gov. Victorino Dennis Socrates and Puerto Princesa Mayor Lucilo Baylon.
During the event, Medalla emphasized that the opening of the new branch not only improves accessibility to clean banknotes and coins for both banks and the public, but also presents an opportunity to engage in activities aimed at enhancing locals' knowledge and understanding of financial concepts, skills, and tools.
He explained the BSP's efforts to spread financial literacy can be done in collaboration with local educational institutions, and can empower the people of Palawan and the rest of Mimaropa to make informed decisions regarding their personal finances.
"Branches play a big role in informing the public and our links to the public. With the new branch, hopefully, financial literacy will increase. The BSP's campaign is for the people to raise their financial literacy and think about the future. What they're earning as income right now is not forever, so they save for their future," the top banker said in an interview.
The new office of the BSP is situated on a 5,000-square meter land at the intersection of North National Road and Sampaloc Road in Barangay San Jose.
It will primarily serve the currency requirements of the archipelagic province of Palawan with its capital city and 23 municipalities.
During the ceremonies, Socrates emphasized the importance of the branch's opening, noting its alignment with Palawan's month-long celebration of Baragatan sa Palawan and its 121st anniversary of civil government.
He further emphasized that the province would bid farewell to the presence of "dirty money." (Izza Reynoso/PNA)