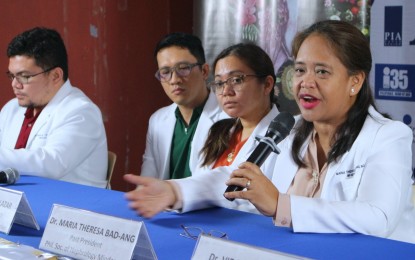 DAVAO CITY – The refusal of family members to allow their patients with irreversible loss of brain function to donate their organs remains a setback, nephrologists from the Southern Philippines Medical Center (SPMC) here said Friday.
In a press briefing, Dr. Ma. Theresa Bad-ang, nephrologist and head of the SPMC-Human Advocate and Retrieval Effort (SHARE), said they have identified an increase of potential and eligible donors but the consent of the family persists to be a problem.
"That's why we need them to understand everything about organ donation. We will continue to intensify our efforts in campaigning for the public to be more aware of the importance of organ donation," she said.
The hesitation among relatives, she said, can be addressed through a sustained public awareness campaign, along with tweaking the existing local policies on organ donation.
"We are asking your help (media) to spread awareness and make them understand the benefit of prevention," Bad-ang added.
She also urged Dabawenyos to look after their health and take care of their kidneys, as the city continues to rank third with the most number of kidney diseases in the country since 2017.
"The problem of the people after the pandemic is they did revenge eating and have not undergone medical checkups so they remain uncontrolled," Bad-ang said.
In the Philippines, she said around 10 to 12 percent of increase were noted for kidney disease patients per year.
"The latest data that we have from (state health insurer) PhilHealth is we have more than 90,000 patients on dialysis in the country. In Davao City, we have around 2,400 patients on dialysis and it is increasing," Bad-ang said.
Dr. Dennis Geli, the SHARE donor management physician, said they are continually advocating organ donation amid the difficulties.
"From Davao Region, we only have two donors. The problem is, when we talk to the family about organ donation, they will immediately refuse," he said.
Meanwhile, Dr. Marian Paz Salazar, SPMC chief fellow nephrologist, urged the public to follow seven healthy practices to avoid the deadly kidney disease.
He said these are getting vaccinated, quitting smoking, quitting drinking alcohol, eating healthy, saying no to illegal drugs, practicing safe sex, and early consultation on health problems. (PNA)