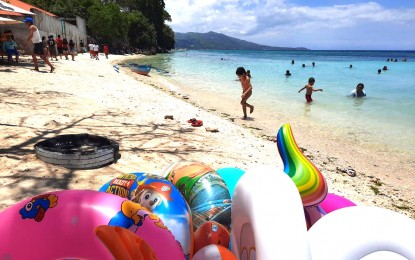 MANILA – The Philippines has been nominated for multiple categories in the 2023 World Travel Awards Asia category.
The country is vying for the following nominations, the voting period of which would close on July 23, 2023:
• Asia's Leading Island Destination
• Asia's Leading Beach Destination
• Asia's Leading Dive Destination
• Intramuros as Asia's Leading Tourist Attraction
• Cebu as Asia's Leading Wedding Destination; and
• The Department of Tourism as Asia's Leading Tourist Board.
In a statement Friday, the Department of Tourism (DOT) said the multiple nominations reaffirm the global importance of the Philippines in tourism and travel.
"The Philippines' nominations in the World Travel Awards Asia are a testament to the hard work of the men and women of the tourism industry in the public and private sector across our many communities in the country, and an affirmation of the Marcos administration's thrust towards tourism transformation," Tourism Secretary Christina Garcia Frasco said.
She also encouraged both local and foreign tourists who have been to, and have plans of visiting the Philippines to vote for the country.
"I encourage our fellow Filipinos and friends from all over the world to vote for the Philippines," she said.
The prestigious award body had been acknowledging Filipino destinations since its first nomination in 2013 until present, besting tourism giants in the Caribbean, the Americas, and Europe.
The country was WTA's World's Leading Dive Destination for four consecutive years and is currently the World's Leading Beach Destination.
The casting of votes can be done through https://www.worldtravelawards.com/vote. (PNA)