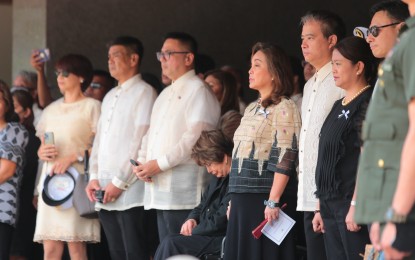 MANILA – Incumbent and former senators, as well as Senate employees, on Monday joined a necrological service for former senator and military chief Rodolfo "Pong" Biazon.
Former Senate President Vicente Sotto III, in his eulogy, remembered Biazon as a fearless, hard-working legislator and military man who always fought for what is right.
"Adversities did not hinder him from climbing both political and military -- as a leader, so to speak," Sotto said.
He also honored Biazon's push for low-cost housing and benefits for soldiers while making sure that all sectors of society will benefit from it.
"He is a truly dynamic and multi-faceted individual, a family man and excellent soldier, an extraordinary legislator, freedom fighter and defender of democracy who relished his life to the fullest and above all his accomplishments, he will be most remembered as a good father, a loving husband, and a dear friend," Sotto recalled.
Like Sotto, former Senator Jose Lina Jr. remembered Biazon as an excellent and outstanding Filipino warrior and a statesman, as well as a devoted public servant.
"All throughout his life, in the service of the Filipino people, Pong was an epitome of humility, simplicity, and decorum," Lina said.
"He has the compassion, understanding and pleasing traits of an exemplary public servant to be able to connect more effectively to the people," he added.
As he paid his last respect to his former colleague, former Sen. Gregorio Honasan described Biazon's unwavering dedication to public service.
"Manong Pong walks the talk and showed by living example that an ordinary imperfect man -- together, I underscored the word together -- dream, pray, worked hard, and sacrificed to build a strong sovereign nation for the next generation. They all become heroes," Honasan said.
Meanwhile, former Senate President Franklin Drilon honored Biazon's career as an inspiration saying that nobody can question the late senator's dedication to public service and loyalty to the country.
"He was fearless and undoubted even in the face of death. Every little thing that could erode his beloved Philippines was worth his time to be able to bring on the floor of the Senate," Drilon said.
During the necrological service, Senate Majority Leader Joel Villanueva described Biazon as a courageous soldier, a family man, a mentor and a statesman.
"Like a true mentor, he taught me the tricks of the trade, like how and when to invoke or not Section 20 of the Commission on Appointments Rules. The many landmark laws he authored made this country closer to the highest ideals of democracy. He modernized the AFP and raised the dignity of our soldiers," Villanueva said.
Calling Biazon a Filipino who lived a life without limits, Villanueva said the former Armed Forces of the Philippines (AFP) chief of staff was a selfless figure who was always willing to sacrifice his interest for the good of others.
"Ultimately, the true honor we can give this great man is to carry on his legacies, especially on issues that are truly close to his heart like national defense and security, housing, good governance, and education, among others," he added.
Senate President Pro Tempore Loren Legarda, for her part, expressed her gratitude to Biazon for supporting similar advocacies in the areas of climate change, disaster risk reduction and national security and defense.
Legarda said she appreciates Biazon's "enthusiasm for bolstering the military reserve corps and recognizing its multifaceted and pivotal role in defense and security."
She also cited Biazon's keen interest in National Disaster Risk Reduction Management, as well as his support for the adoption of the Incheon Resolution in 2011, aimed at addressing the pressing concerns of escalating disaster and climate change effects on the nation.
"He will always be one of the pillars of Philippine defense and security, who fought for peace and democracy. His selfless service and unwavering commitment to this cause make him stand out as an inspiration to many. He will always be revered and respected as a figure of courage, honor, and patriotism," she said.
Biazon, a native of Batac, Ilocos Norte, entered the Philippine Military Academy as a cadet at 21, serving the military for three and a half decades before becoming the 21st AFP chief of staff 1991.
He is the first and only AFP chief from the ranks of the Philippine Marines.
The first PMA alumnus to be elected as a senator, Biazon served in the 9th Congress from 1992 up to 1995 and from 1998 until 2010.
From the Senate, Biazon's remains will be transferred to the Philippine Marines headquarters in Taguig City for the final salute and execution of full military honors.
After battling pneumonia, Biazon died at the age of 88 on June 12 -- the day when the country celebrated Independence Day.
The Senate issued a resolution honoring Biazon's legacies as well as expressing sincere sympathies and condolences for his passing. (PNA)