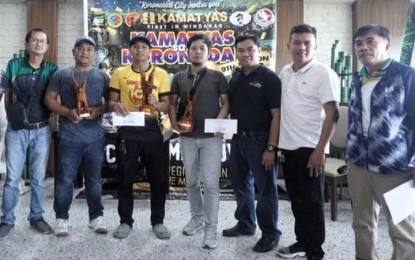 MANILA – John Gerard Acedo of Davao City was crowned champion in the 9th edition of the Kamatyas FIDE Rated Rapid Chess Invitational tournament held at the Ace Center Point in Koronadal City, South Cotabato last June 17.
Acede and Jayson Saludre of Panabo City, Davao del Norte finished with identical 7.0 points but the former won for having the highest tiebreak points.
"I am very happy because winning this tough Kamatyas event is one of my dreams. I dedicate this to my family, to my friends and to all my supporters," said Acedo who took home PHP30,000 in cash and a trophy.
He defeated Nick Danuel Pabroquez (1st round), Cipriano Magalso (2nd round), Rafael Toredes (3rd round), Jhonnel Balquin (4th round), Rhynan Arce (5th round), Aglipay Oberio (6th round) and Dillon Intila (7th round).
Salubre, on the other hand, downed Francic Septian Dela Cruz, Garry Carcallas, Jade Anipan, Vic Michael Artieda, Japheth Aaron Caresosa, Mhyl Crese Wayne Patrimonio and Carl Zirez Sato to settle for the PHP10,000 runner-up purse.
John Christian Lesaca and Julius Silvederio had similar 6.5 points, while Jezreel Lopez, Carl Zirez Sato, Erich Von Requilman Jr., Anthony Mosqueda, Melchor Arcenas Jr., Jhonnel Balquin, Jeriel Manlimbana, Robert Toledo, Joe Ralph Santillan and NM Henry Roger Lopez finished with 6.0 points.
A total of 287 players competed in the event organized by International Master Roderick Nava and NM David Almirol of Kamatyas Chess Club in cooperation with Joselito Dormitorio and Mark John Centillo. Byron Gabrentina Villar served as chief arbiter. (PNA)