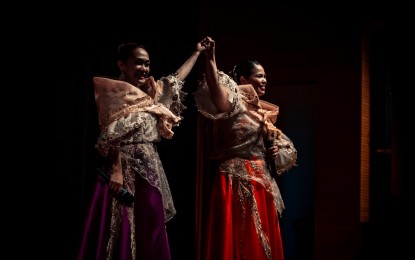 MANILA – The Philippines brought Filipino soprano duo The Nightingales to Morocco for an Independence Day concert as part of its effort to bridge relations between the two nations through culture.
The concert, organized by the Philippine Embassy in Rabat, was held on June 14 at Bibliothèque Nationale du Royaume du Maroc (National Library of the Kingdom of Morocco).
It also featured an exhibit by Moroccan artist and photographer Mohamed Tazi.
The singing duo Katrina Marie Saga and Bernadette Mamaug serenaded the guests with their renditions of Salam (Peace), Philippine Folk Songs Medley, Kay Ganda ng Ating Musika, Flight of the Nightingales, Habanera, Yanni's Aria, Hymn a l'Amour, As Time Goes By (theme song from the movie Casablanca), Runaway, and Paraiso.
"We are happy to visit Rabat, Morocco once again, this time as Nightingales! We were part of the batch of the Philippine Madrigal Singers that performed here for the first time in 2017, but nothing changed as Rabat is still magical as it was," the duo said.
The concert was well-received by the nearly 300 guests, who were impressed by the vocal technique exuded by the artists, as well as the vibrant and distinct sound of Philippine folk songs.
This was the first major concert held by the embassy since it reopened in 2020.
Philippine Ambassador to Morocco Leslie Baja, during the opening, said Manila banks on cultural diplomacy as a soft power "to strengthen relations and foster mutual understanding with our friends and partners."
In citing the importance of intercultural cooperation and interfaith dialogue, he also highlighted Morocco's "tolerant yet traditional culture with strong values" and how it has become an "outstanding model of cultural coexistence and interaction between religions."
The exhibit, meanwhile, featured 15 of Tazi's personal collection of photographs of natural landscape and scenery, people and culture, and experiences during his January 2023 trip to the Philippines.
Prior to this, Tazi has visited the Philippines thrice.
Tazi is a multi-awarded photographer, artist, and entrepreneur whose photographs were published in magazines and newspapers such as National Geographic, Forbes, Daily Mail, The Sun, Photography Week, Wild Planet, Insider and Arab News.
Ghita Mezzour, Minister-Delegate to the Head of Government in charge of Digital Transition and Administrative Reform, was the guest of honor, with other guests coming from the Moroccan government, members of the diplomatic corps and international organizations in Rabat, private institutions and organizations in Morocco, representatives from various local media outlets, and Filipino community leaders.
The event was held in coordination with the Department of Foreign Affairs and the National Commission for Culture and the Arts.
The Philippines celebrated its 125th anniversary of independence on June 12.
The Philippines and Morocco in April, on the other hand, marked 48 years of diplomatic relations and are looking forward to having increased engagements ahead of their 50th anniversary in 2025. (PNA)