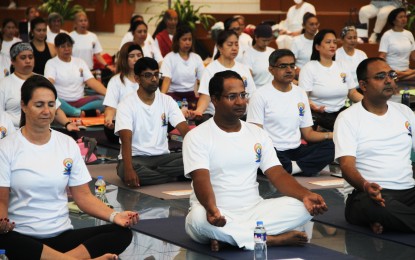 MANILA – Twisting into a Vakrasana and a dozen other yoga poses, Indian Ambassador to the Philippines Shambhu Kumaran joined Filipino yogis in celebrating the 2023 International Day of Yoga in Manila on Wednesday.
The second to be held during the pandemic, the embassy's free yoga session for Filipinos gathered more than 200 yoga practitioners, including diplomats, at the SM Mall of Asia in Pasay.
The session drew from the Common Yoga Protocol under the guidance of leading yoga gurus and experts in the Philippines.
It began with the Suryanamaskar (sun salutation), led by Janice Cuevas, a certified Ashtanga Vinyasa Yoga teacher, followed by the practice of key Yoga asanas by yoga guru Donna Lampano.
Clara Day Herrera, a certified international expert, guided the participants through the Pranayama guided breathing practice while Iachina Hernandez, the founder of BetterLife Studio, concluded the event through a meditation session.
For Kumaran, yoga, dubbed as "India's gift to the world," not only provides numerous benefits to a person's physical and mental well-being but also serves as an important tool to bring India and the Philippines closer.
"Yoga is India's civilizational pathway to wellness. It is a way of managing stress, of preventing disease, and enhancing your health levels overall. And therefore, in this stage when people are recovering from Covid, it is particularly important that people try and do more activities that look after their health and yoga is a very useful, easy pathway for people of all ages," he said in an interview on the sidelines of the event.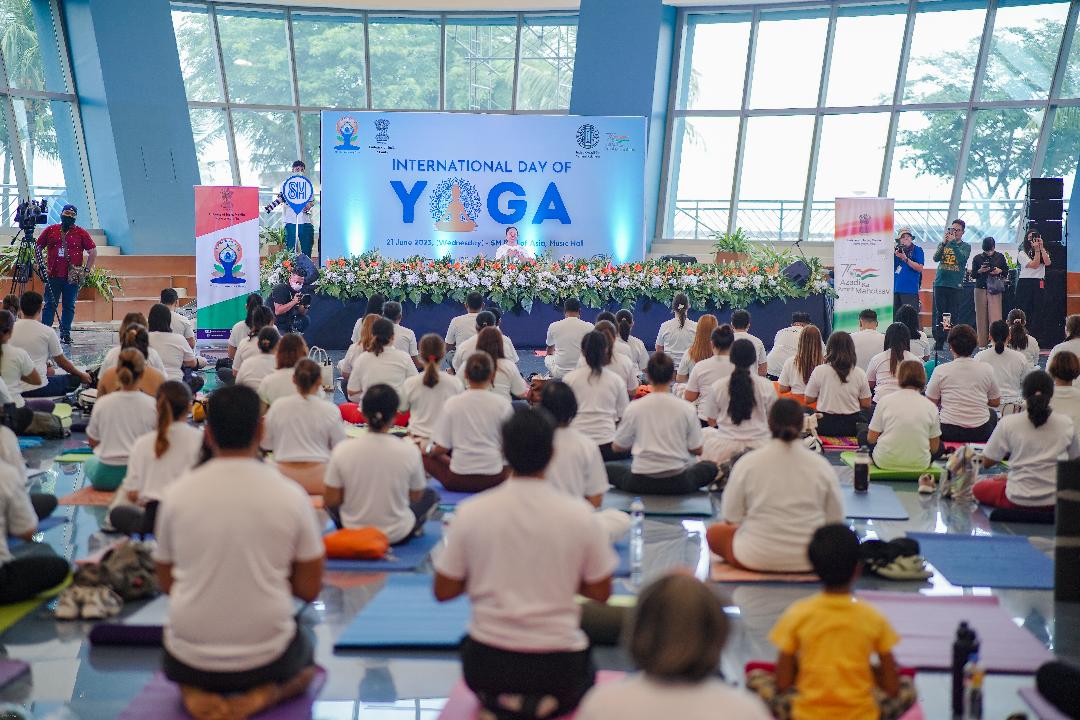 The 5000-year-old practice of Yoga originated in ancient Indian Civilization and is a key pathway towards sustaining a healthy lifestyle, leading the United Nations General Assembly in 2014 to declare June 21 as the International Day of Yoga (IDY).
In the run-up to the celebrations, pre-events were organized to promote awareness of yoga across different sections of Metro Manila.
The Bharati – Indian Expat Women's Association held yoga practice sessions at the National Training School for Girls and the Haven for Women Institute run by the Department of Social Welfare and Development - National Capital Region (DSWD-NCR) in Muntinlupa City, the Correctional Institution for Women in Mandaluyong City, and the Bureau of Fire Protection in the City of Manila.
Yoga practice sessions were also conducted by Bharati in Paranaque City's Nord Anglia International School and Miriam College in Quezon City.
In Pampanga City, the Indian Cultural Association of the Philippines (ICAP), held a yoga practice session at the Alpha Aviation Group in Clark.
The Indian Women in Enterprise (I-WE) held a yoga practice session at the Club United, Merville in Parañaque City.
"As the world continues in gradual re-emergence from the Covid-19 pandemic, the well-being of communities across the globe remains a great priority," the embassy said. "India hopes that enhancing the reach of the healing practice of yoga, through the annual celebration of IDY and other activities, will make a meaningful contribution in this regard." (PNA)