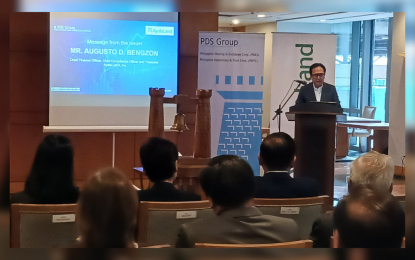 MANILA – Ayala Land Inc. (ALI) on Monday listed at the Philippine Dealing Exchange (PDEx) PHP15 billion worth of five- and 10-year fixed-rate bonds, proceeds of which will fund capital expenditures and refinancing requirements this year.

In a speech, ALI chief finance officer Augusto Bengzon said the bond issuance is the second largest for the company, the largest for a five-year tenor and the first 10-year paper.

The five-year paper amounted to PHP10.1 billion and fetched an annual coupon rate of 6.0253 percent while the 10-year tenor amounted to PHP4.9 billion and carry a coupon rate of 6.2948 percent per annum.

In an interview after the listing ceremony, Bengzon said they only raised PHP15 billion "because we basically have no pressing need to raise more."

"Most likely, our next fund-raising will be with our banks, with our commercial banks. And we do want to do a few bilaterals. We already signed up for a PHP10 billion bilateral facility with one of the universal banks," he said but declined to elaborate.

Bengzon said proceeds of the latest fund-raising activity will partially fund ALI's capital expenditures, which were set at PHP85 billion for this year, and for refinancing requirements.

"Our program for the year is roughly no more than PHP40 billion, of which half will go to refinancing and half would be for capex (capital expenditures)," he said.

Bengzon said nearly half of the capex will be utilized for the completion of residential projects, around 25 percent for leasing businesses, and the balance for land acquisition, estate development, and other investments.
Asked for his outlook for the second half of the year, he said: "so far so good."
"We've always said that as long as the economy is growing at 5 percent or better, then, our businesses will continue to do well," he added.

Bengzon said the growth of residential sales is "still healthy" and has been growing even during the pandemic.

"So, we're quite pleased on the performance of our residential business," he said, noting the segment's expansion in the past three years is around the mid-teen levels.

Bengzon further said around PHP100 billion worth of projects have been lined up and these will be launched depending on the demand.

"What's important is we are prepared to launch depending on the demand on the ground, which, so far, we've seen continuously to be healthy," he said.

During the same event, Securities and Exchange Commission (SEC) chairman Emilio Aquino expressed optimism on the impact of ALI's capital raising activities, citing that the company's various real estate projects complement the government's bid to increase infrastructure investments in the country.

Aquino said these projects support the government's economic renewal program and the long-term growth of the economy.

"The Securities and Exchange Commission is very hopeful that today's listing of the Ayala Land's fixed rate bonds will further propel the development of the capital market towards that overall common goal of uplifting the nation's economy," he added.

Asked whether ALI will focus more on the construction of more commercial spaces instead of residential properties to further support the government's infrastructure program, Bengzon pointed out that "whether it's residential or leasing or estate development, the multiplier effects to the economy when you're in property development are quite significant."

"Our states are located at or near major infrastructure projects. By and itself developing an estate requires a significant amount of capital and it does create significant quite a number of jobs in the community. So anything that's related to real estate development in many ways contributes to the growth of the economy," he added. (PNA)