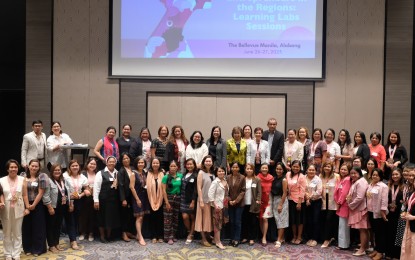 MANILA – Department of Science and Technology - Philippine Council for Industry, Energy and Emerging Technology Research and Development (DOST-PCIEERD) on Monday gave PHP100,000 prize each to 20 women-led enterprises as part of its Women-Helping-Women: Innovating Social Enterprises (WHWise) program.

Launched in 2021, the WHWISE program seeks to reduce gender biases by offering an exclusive program for women social entrepreneurs, so they will not compete with men for early-stage funding and assistance.

The program is not a yearly search, but the DOST announced this year's search for women-led enterprises in the regions last March.

"These women entrepreneurs are a good example in strengthening the economy in the regions and the communities. They have established businesses that seek to help their communities and improve the quality and add value to their products," PCIEERD Executive Director Enrico Paringit told the Philippine News Agency in an interview.

He said the 20 were chosen based on the PCIEERD's goal of helping them through technology.

"We see the prize as a seed fund to prepare (them in crafting) a proposal. They need some data, do the legwork and coordination to craft a substantial proposal," Paringit added.

The PCIEERD official said they think the WHWISE applications they've been getting are not ready for huge grants like the funding they give to startups.

"We did a research on the candidates who could receive the grant. With enough training and guidance, they could be better prepared to receive larger grants," he said.

Paringit said there are fewer women in the field of business.

"They could easily connect with their communities. They also need entrepreneurship skills, marketing and networking, and technology training," he continued.

Meanwhile, Paringit commended the women entrepreneurs for their unwavering commitment to making a difference during the awarding of prizes at a hotel in Alabang, Muntinlupa City.

Recognizing them is a testament to their exceptional accomplishments and potential, he said, adding that their innovative ideas and visionary leadership have the power to transform lives, uplift communities, and shape a more inclusive and sustainable future.

The WHWise program will help in breaking down barriers and creating a more inclusive and thriving startup ecosystem, Paringit said.

"By addressing the challenges faced by women entrepreneurs, we can foster an environment where innovation and creativity flourish, leading to sustainable economic growth and societal progress," he said.

The list of the awardees:

* Leah F. Yu of Liana's Food Products Manufacturing from Region IX: From cacao farming, pruning, tableya making, and champorado feeding, she aims to do more with the chocolate production and branding in Zamboanga del Sur.
* Paula Nikole Q. Prado of Iconik Travel Services from Mimaropa envisions that with the support of the nation and its people, the world's best island will be able to reach more people not just through their eyes but also through their palates.

* Sharon Q. Abdon of Cnellej Souvenir Shop from Mimaropa: The community she is serving utilizes a native plant in the Philippines, processes it, and transforms it into various functional products with intricate designs.
* Romae Chanice B. Marquez of Hibla Textile Fabrics Wholesaling from the National Capital Region clearly showcased her team's mission of promoting the cultural heritage of Philippine weaves and fabrics as well as connecting people to their beauty through immersive technology.
* Vilma E. Solilap of Mavil's House of Mushrooms from Region XI She believes in the power of mushrooms. Her vision on waste utilization and mushroom strain stability research shone through and came across in her pitch.
* Leah Hiangan of Todoc's Special Native Delicacies from Region VIII aims to be the leading innovator of the local tapestry of native delicacies, showcasing the diverse culinary heritage and traditions of Abuyog, Leyte.
* Donna Marie Lecaroz of Island Harvest Agriventures from Mimaropa enables farmer-families through their "Panalo sa Tatlo" model of agriculture, technology, and tourism.
* Iloisa R. Diga of Northern Roots Session Groceries Inc. from the Cordillera Administrative Region provides a platform for farmers to market their produce, as well as adding to the nation's drive to secure a healthy, sustainable, and local food supply for generations to come.
* Nenita M. Tan of Bestfriend Goodies from Region X leads her social enterprise in manufacturing pasalubong treats, ready-to-eat products
* Anita Ogrimen of the Basey Association for Native Industry Growth from Region VIII constantly looks for ways to continuously empower weavers through training opportunities, fair compensation, market linkages, and many more.
* Angela E. Duldulao-Regis of Dream Wide Awake Company from the National Capital Region involves farmers or producers behind every vital ingredient.
* Liezel Salera-Manabat of Buoyancies Business Accelerated Inc. from Region XI aims to touch and grow more enterprises, create better and higher-value products, generate more revenues, and build more resilient businesses.
* Camille Rose D. Albarracin of Everything Green Trading and Consulting from the National Capital Region seeks sustainable solutions through transforming surplus agri-waste, increasing its value, and thereby empowering the communities they are serving to become self-sufficient.
* Gay S. Pia of PHD Spicy Food Corporation from Caraga has a mission is to produce spicy-healthy food products while supporting the local farmers and providing earning opportunities in the community.
* Marivic B. Aguirre of Aguimangan Agro-Eco Tourism Farm from the Cordillera Administrative Region has a continuous mission for the revival, revitalization, preservation, and promotion of Yapayao culture through fabrics and handicrafts.
* Melda Tumaneng of Vintar Mango Stakeholders Association Inc. from Region is aiming to sustain the viability of mango production in Vintar and raise the socio-economic well-being of every mango farmer family.
* Anna Paula S. Chiong of Mama Nene's Homemade Delights from Region X and her team champion the Lumad communities of Bukidnon through their pineapple food products.
* Jane M. Vitorillo of Kusina University Online Tutorial Services from Region XI said her mission is to help food business owners build a strong foundation by equipping them with proper kitchen skills and business management.
* Ana Maria R. Lao of J5 Lao Organic Fertilizer Producer from Region IX shared her technology on making vermicast with farmer organizations, out-of-school youth, and students. (PNA)