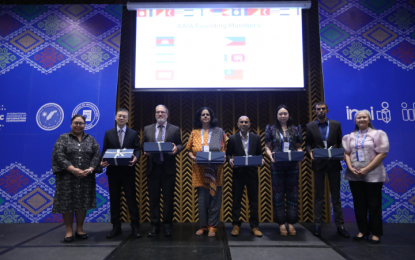 MANILA – The co-founding members of the Asian Access to Information Alliance (AAIA) held its first face-to-face meeting at the Philippine International Convention Center in Pasay City on June 20.
The event is part of the lineup of regional meetings in the 14th Edition of the International Conference of Information Commissioners (ICIC), alongside the meeting of the Latin American, North American, African, European, and Australia-Oceanian networks.
AAIA was established on September 28 last year, along with the celebration of the International Day for Universal Access to Information, with the main goal of strengthening collaborative efforts among access to information implementing bodies in Asia to promote transparent and accountable governance and encourage active citizen participation.
The co-founding members — the Kingdom of Cambodia, the State of Israel, the Republic of Maldives, the Republic of the Philippines, the Democratic Socialist Republic of Sri Lanka, and the Republic of China (Taiwan) — have their respective access to information legislation or policies and have dedicated oversight offices to ensure the implementation of these.
"It seemed unrealistic at first, but with us here today is proof that impossible is possible… When access to information offices come together, we can learn more from each other and achieve more," Commissioner Kishali Pinto-Jayawardena of Sri Lanka said.
Representatives from each of these offices, sans Cambodia, gathered in Manila and discussed the steps the Alliance must make to steer its direction. As it is only laying its foundation, the establishment of its Charter is of utmost importance to devise a structure that works for its members and the rights it protects.
"Our main resource is knowledge. We can work on our knowledge exchange activities by exhausting virtual platforms," suggested by Advocate Shlomi Bielawsky of Israel in the gathering of proposals for the Alliance's future activities and programs.
All members of the Alliance agreed with Advocate Bielawsky's suggestion, with Director General Chang Fu-Lin of Taiwan articulating that his office is open to sharing its best practices.
"We are all eager to move forward and work on our proposed activities to advance access to information in Asia," Freedom of Information Philippines Head Krizia Casey Avejar said.
Three of the co-founding members of AAIA, namely the Philippines, Israel and Maldives, are members of the ICIC network. (PR)