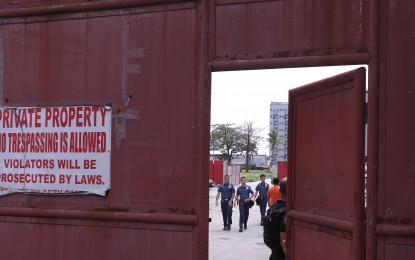 MANILA – The Philippine National Police (PNP) on Friday maintained that its operation against a suspected illegal Philippine offshore gaming operator (POGO) in Las Piñas early this week is legitimate as it refuted claims of abuse and manhandling of workers rescued from the establishment.
In a statement, PNP Public Information Office chief Brig. Gen. Redrico Maranan said the 2,714 workers earlier taken into custody during the operation would be released once they have completed their profiling works.
He also denied that human rights violations were committed by the police when the operation was carried out and assured that the police force would conduct a full and impartial investigation into the said operation.
The PNP's statement came after the legal representatives of the firm Xinchuang Network Technology, Inc., demanded an investigation into alleged abuses committed by the National Capital Region Police Office (NCRPO) during the operation at Hong Tai Compound located at No. 501 Alabang-Zapote Road in Barangay Almanza Uno on Tuesday morning.
Vargas Law Office representative lawyer Ananias Christian Vargas has requested NCRPO chief Maj. Gen. Edgar Alan Okubo, PNP-Anti Cybercrime Group director Brig. Gen. Sidney Hernia, PNP Directorate for Intelligence chief, Maj. Gen. Jon Arnaldo and Bureau of Immigration Commissioner Norman Tansingco to investigate.
"As you may very well recall, in the late evening of 26 June 2023, 11:30 p.m. to be specific, the NCRPO Joint Police Task Force, led by Deputy Regional Director for Operations Brig. Gen Jack Wanky and Anti-Cybercrime Group Deputy for Operations Col. Villamor Tuliao implemented Search Warrant Nos. SW-LP23-007, SW-23-14 and SW-23-016, all dated 26 June 2023, issued by the Regional Trial Court of Las Piñas City, Office of the Executive Judge, which you conveniently couched as 'Rescue Operation' in Hong Tai Compound located at No. 501 Alabang-Zapote Road Almanza Uno, Las Piñas City, during which you and your Task Force control of the entire Hong Tai Compound, and even converted one of the structures as a command post," Vargas said in the letter dated June 30.
He claimed the firm as well as its foreign and local workers were duly documented.
"The company and the legitimate workers all abide by the legal requirements," Vargas said adding that all the documents covering the operations of the company had been in the vault seized during the raid.
Reports earlier said the PNP-ACG, backed up by several NCRPO uniformed personnel, conducted the operations.
The company also questioned the conduct of the operation the police described as anti-human trafficking-related.
Vargas also claimed that as of this time, the NCRPO has not allowed the persons in the compound to leave despite its inability to file the necessary cases against these Filipino and foreign individuals.
He added that they also received reports the police task force questioned these people without the assistance of a lawyer and forced them to sign documents they could not understand. (With a report from Benjamin Pulta/PNA)