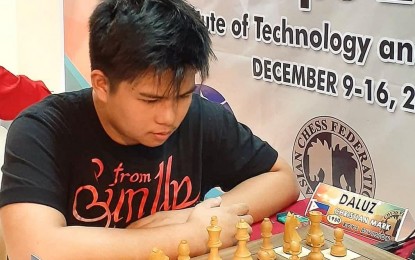 MANILA – Fide Master Christian Mark Daluz and Jerome Villanueva claimed their third victories over the weekend to share the lead in the AQ Prime Stream FIDE Standard Open Chess tournament being held at Robinsons Metro East in Pasig City.
Daluz defeated fellow FIDE Master Christian Gian Karlo Arca while Villanueva downed National Master Mark Jay Bacojo.
"I hope to do well in this event and gain some Elo rating points," said Daluz, the top player of the University of Santo Tomas chess team and the newest member of AQ Prime Sports.
He was conferred the FIDE (International Chess Federation) Master title in February.
Daluz's earlier victories were over Fide Master Adrian Ros Pacis and National Master Edmundo Gatus.
International Master Jose Efren Bagamasbad, the reigning Asian senior (over 65 category) champion, conquered Carlos Edgardo Garma and is third with 2.5 points, followed by Kevin Arquero, who drew with International Master Cris Ramayrat.
The tournament sanctioned by the National Chess Federation of the Philippines offers PHP10,000 cash to the winner.
In the 2000 and below category, NM Jasper Faeldonia beat Clarence Lagac to share the lead with NM Bob Jones Liwagon, Mark James Marcellana, Angele Tenshi Biete, Errenz Denisson Calitisin, NM Al-Basher "Basty" Buto, Freddie Talaboc, Chester Neil Reyes, John Ernie Maraan, Jovert Valenzuela, Jan Lei Kian Rosaupan, Oscar Joseph Cantela, Jhulo Goloran Yuri Lei Paraguya, Stephen Manzanero and Mark Gerald Reyes.
All have three points.
Meanwhile, the 2nd Engr. Alejandro Ramos Sr. and Jr. Memorial Open kicked off on Sunday at Civic Center in Lingayen, Pangasinan.
Jeremy Marticio, aiming to raise his rapid rating of 1764, is among the participants of the tournament organized by Pangasinan Chess Federation president Juan Sison, Lingayen Chess Club official Tom Ferrer, and Mayor Leopoldo Bataoil.
The 17-year-old, Grade 11 student of Pulo Senior High School in Cabuyao, Laguna, is coming off a win in the Mayor Darel Dexter Uy National Age Group Chess Championships Grand Finals U18 boys blitz event in Dipolog City, Zamboanga del Norte province last April 10.
Marticio will also join the 82nd Birthday and 25th Death Anniversary of GM Rosendo Carreon Balinas Jr. Open Rapid on Sept. 30 at Rockwell Business Center in Mandaluyong City.
Also competing are IM Ronald Bancod, IM Rolando Nolte, WNM Jersey Marticio, Romy Fagon, Henry Calacday, Jose "Fer" Camaya, Nestor Gabayan, James Basa, Bensh Manago, Jonathan Bayron, and Edgar Tullao.
Prizes at stake are P10,000 (1st), P7,000 (2nd), P5,000 (3rd), P3,000 (4th), P2,000 (5th), P1,000 (6th), P800 (7th), P500 (8th-10th), and P300 (11th-15th).
In the Under12 category, the cash prizes are P4,000 (1st), P2,000 (2nd), P1,000 (3rd), P700 (4th), P500 (5th), and P300 (6th-10th). (PNA)