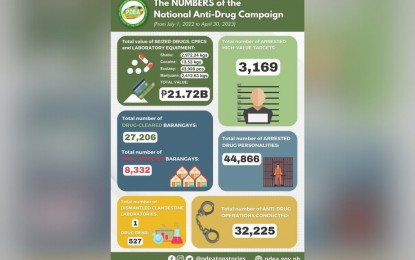 MANILA – Authorities have seized PHP21.72 billion worth of narcotics across the country since the start of the administration of President Ferdinand R. Marcos Jr.
The agency made the announcement during the celebration of its 21st anniversary at its national headquarters in Barangay Pinyahan, Quezon City on Monday.
The latest PDEA data also showed 44,866 were arrested, including 3,169 high-value targets (HVTs), during 32,225 anti-illegal drugs operations from July 1, 2022 to April 30 this year.
Authorities likewise dismantled 527 drug dens and one clandestine shabu laboratory during the same period.
At least 27,206 out of 42,045 barangays (villages) have been declared drug-cleared as of April 30 while 8,332 are still drug-affected.
The barangays with drug-cleared status were issued certifications by members of the oversight committee on the barangay drug-clearing program.
During the celebration, PDEA Director General Moro Virgilio Lazo led the wreath-laying rites in honor of PDEA personnel who died in the line of duty.
Philippine National Police (PNP) chief Gen. Benjamin Acorda, who served as the occasion's guest of honor and speaker, said "the figures are good" as far as the accomplishments, operations, and number of arrests are concerned.
"Right now and we are doing our best talaga together with the efforts 'yung demand reduction and supply reduction and 'yung interagency coordination tuloy tuloy naman 'yan (Right now and we are doing our best really together with the efforts of demand reduction and supply reduction and the interagency coordination that is going on)," Acorda told reporters.
Acorda also said they continue to work with PDEA to boost the country's anti-drug campaign.
"We have personalities na tinutumbok diyan, continuously building up our intelligence reports on this and so far sa tingin ko naman there are coordination with other agencies especially the PDEA. This is the number one drug enforcement agency. Ok naman 'yung coordination namin we know, we have some personalities na tinutumbok but of course we cannot divulge it (We are targeting personalities, continuously building up our intelligence reports on this and so far I think there are coordination with other agencies especially the PDEA. It is the number one drug enforcement agency. Our coordination is ok, we know, we have some personalities that are targeted but of course we cannot divulge it)," he added. (PNA)