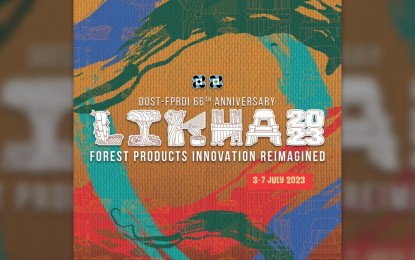 LOS BAÑOS, Laguna – The Department of Science and Techonology-Forest Products Research and Development Institute (DOST-FPRDI) on Monday launched here the "LIKHA: Forest Products Innovation Reimagined", a week-long event highlighting the relevance of programs creating high quality, innovative and sustainable forest products.
LIKHA is an acronym for "local, innovative, knowledge-based, holistic and adaptive."
"Today, I challenge you not just to sustain this but to continue growing and learning, adopt a growth mindset and always strive for continuous improvement," said DOST Secretary Renato Solidum in his speech.
The festival marks the FPRDI's 66th anniversary and will highlight a series of activities from July 3 to 7 in its headquarters in UP Los Baños.
The Himig Agham Kawayan, a homegrown group that uses bamboo musical instrument (BMI) prototypes, graced the opening of the celebration.
It was followed by the screening of two short films featuring indigenous BMI masters from tribes in Cordillera and South Cotabato.
A "LIKHA Exhibit" was displayed featuring FPRDI's creative products such as bamboo musical instruments, flavors and fragrances from the forests, bamboo furniture, and carved items using alternative wood species.
Meanwhile, the "Ilawang Kawayan Design Contest" features 10 innovative bamboo lighting fixtures that were designed by young creatives from universities in Calabarzon and National Capital Region.
Organizers said the lighting display will be held until July 7.
Other DOST officials graced the launching as well as industry partners, educators, scientists, innovators, artists, environmentalists, and artists from the Los Baños science community.
The "Foresee, Foresea Exhibit" which opened Tuesday, showcases different sustainable designs made from forest wastes and other underutilized materials.
There will also be a webinar featuring Oscar Mejia III, a Filipino artisan perfumer, and Fortunato de la Peña, Jr., an industrial designer and UP professor. (PNA)