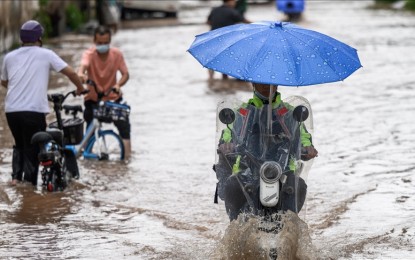 ISTANBUL / ISLAMABAD, Pakistan – At least 15 people were killed while four others are missing due to heavy rains that have hit China since Monday.
All the deaths were reported in the southwestern Chongqing municipality, state-run CGTN reported.
The rains have triggered floods and landslides, damaging property and displacing tens of thousands of people.
Rains lashed parts of China after the country witnessed sweltering temperatures over the past few weeks.
Climate change has been linked to both abnormal heat and extreme weather events.
President Xi Jinping called on authorities to "ensure people's safety and property in the affected areas."
To mitigate the impact of the rains and floods, Xi asked for "coordination, strengthening consultation and research" among different departments while urging improvement in early warnings and forecasts.
In the Hunan province, around 95,000 people have been affected by heavy rain and flood, while 14,000 were evacuated by local authorities, China Daily reported.
Over 85,000 people have also been evacuated from the Sichuan province to safer areas, while the rain and flood also caused nearly $80 million in economic losses in the Hunan province.
China's National Meteorological Center Wednesday also renewed a yellow alert for high temperatures amid heatwaves across many parts of the country. (Anadolu)