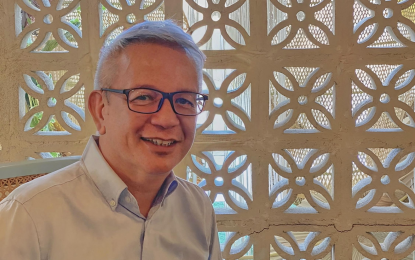 MANILA – Veteran showbiz reporter Mario Dumaual passed away on July 5 at 8:01 a.m., his family had announced.
He was earlier hospitalized due to heart attack, and died due to septic shock -- a complication during his recovery.
Dumaual would have turned 65 on July 31.
"Papa was strong, he kept fighting on, overcoming heart attack then a cardiac arrest... But the infection overwhelmed his body's ability to recover," his family posted on social media.
He was considered a respected entertainment journalist, and various industry personalities have posted their messages on his passing.
"He was a talented writer and TV journalist," said Senator Grace Poe on her Facebook account. She recounted that Dumaual has reported many of her family's milestones.
The Film Development Council of the Philippines (FDCP) acknowledged his constant support to their programs and initiatives for the local film industry.
"He cemented his legacy as a well-respected entertainment reporter in the industry and was honored with a five-point brass star on the Eastwood City Walk of Fame," the FDCP said.
Meanwhile, veteran broadcaster Antonio "Tony" Lozano also passed away on June 30.
Lozano served as GMA senior news reporter for 31 years and pre-martial law ABS-CBN TV Malacañang reporter for 12 years. He was also a former vice president for broadcast media of the Malacañang Press Corps. (PNA)