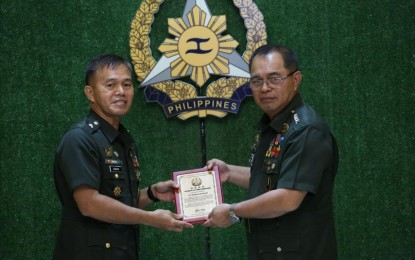 CEBU CITY – The Armed Forces of the Philippines (AFP) cited the accomplishments of the Visayas Command (Viscom) in dealing with the Communist Party of the Philippines-New People's Army (CPP-NPA) through major armed encounters and strong collaboration with the community.
In a statement Thursday, Viscom said the command received six plaques of recognition of its performance in conducting internal security operations in the Visayas which led to the devastating losses suffered by communist insurgents in the first six months of 2023.
The awards were conferred to different military units in the three central Philippine regions under the operational control of Viscom during a simple ceremony last Tuesday (July 4, 2023) at the AFP General Headquarters in Quezon City.
Two of the awards were conferred to Joint Task Force Storm of the 8th Infantry Division for their major armed encounters against the rebels n Eastern Visayas, while four were conferred to JTF Spear for their major armed engagement with NPA fighters in Western and Central Visayas.
Lt. Gen. Benedict Arevalo, Viscom commander, cited the military units' active community engagement as its major tool to effectively address the insurgency problem in the Visayas.
Arevalo said that based on their inventory, the troops have confiscated a total of 223 firearms of different calibers from the 156 rebels neutralized during the last six months' internal security operations.
Of the number of rebels neutralized from Jan. 1 to June 30 this year, 103 surrendered, 42 were killed in encounters and 11 were arrested during joint law enforcement operations.
He cited the strong links between the military and the community in the fight to end the insurgency.
"Much of what we have accomplished is the result of our collaboration and active partnership with the community, the local government units, and the different government agencies who are members of the local task force to end local communist armed conflict," Arevalo said.
He also thanked the LGUs and the civil society organizations in the Visayas "for their untiring and overwhelming support."
The Viscom chief assured that "our relentless focused military operations will be sustained, as we continue our quest for the attainment of just and lasting peace in the entire Visayas region."
He said the awards will serve as an added boost to the morale of the troops, as they continue to exert their efforts in eradicating the CPP-NPA in the Visayas region, at the soonest possible time. (PNA)