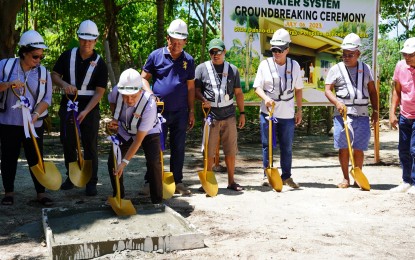 ILOILO CITY – A PHP12.845 million solar-powered desalination water system to be constructed in an island barangay in the municipality of Concepcion, Iloilo will provide adequate potable water supply to 213 households.
A groundbreaking ceremony for the project funded under the Philippine Rural Development Project with a counterpart fund from the Department of Agriculture and the provincial government was done in Sitio Danao-Danao of the island barangay of Polopiña on Thursday, led by Iloilo Governor Arthur Defensor Jr.
"The islet with a population of close to 1,000 has no source of potable water. Our governor broke the ground for a pioneering project, first time that the provincial government will embark on a solar-powered water desalination water system project," said Provincial Administrator Raul Banias in an interview on Friday.
The source will be the seawater which will be processed using the desalination machine that will be powered by solar power.
"It can produce around 11,000 liters a day, sufficient for the water needs of our beneficiaries in the islet," he added.
Banias said that the islet has no source of potable water but during his time as mayor of Concepcion, they laid an underwater piping system from Polopiña to Danao-Danao but on a limited scale.
The project has a nine-month deadline but the provincial government has requested its completion in six months.
Banias said he is sure that it will be successful because it is already being done in Singapore, Israel, and other Middle East countries.
He added that Defensor is looking at replicating the project in the islands of the municipalities of Carles, Ajuy, and other waterless coastal barangays.
"Seawater is limitless; it's a matter of processing to be used as drinking water for the people," Banias said.
Defensor, in a press conference on Friday, said that using solar as a power source is already part of the direction of the province in transitioning to renewable energy.
"That is a big step even though it's only one barangay. That reflects the direction of the province towards renewable energy and the technology of desalination," he said.
He added that the province has a desalination project in Baliguian Island, also in Concepcion, but it is powered by a generator.
The governor also visited the province's solar-powered water system in Sitio Dagaan, a mountainous area of Polopiña, on Thursday.
The project was funded under the Rural Water Supply and Sanitation Project worth PHP1.145 million. (PNA)