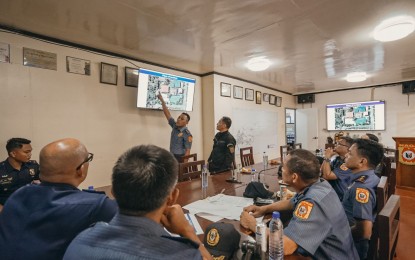 LEGAZPI CITY – The Bicol Police Regional Office (PRO-5) is devastated over the death of a police officer who was killed while responding to a shooting incident in Barangay San Felipe in Naga City.
Patrolman Ronnie Revereza Jr. and his colleagues at the Naga City Police Office received a call from a concerned citizen regarding the shooting of a delivery driver named Ryan Vargas on Thursday.
Accompanied by a village official, the cops went to the residence of the suspect, identified as Eric Sison, in Lomeda Subdivision and initiated negotiations for a peaceful surrender.
Sison refused and fired at the police officers, hitting Revereza in the head. The Special Weapons and Tactics (SWAT) team eventually neutralized the suspect.
Revereza died around 1:50 p.m. Friday while the delivery rider, 28, expired before midnight in separate hospitals.
"His dedication and bravery in the line of duty will always be remembered and honored. He made the ultimate sacrifice while serving the public, and his commitment to ensuring the safety of the people will not be forgotten," PRO-5 director Brig. Gen. Westrimundo Obinque said in a statement over the weekend.
"He will forever be remembered as one of the modern heroes of the Philippine National Police (PNP), who selflessly offered his life for the greater good. His legacy will live on, and his comrades in the police force will continue to carry out their duties in his honor." (PNA)